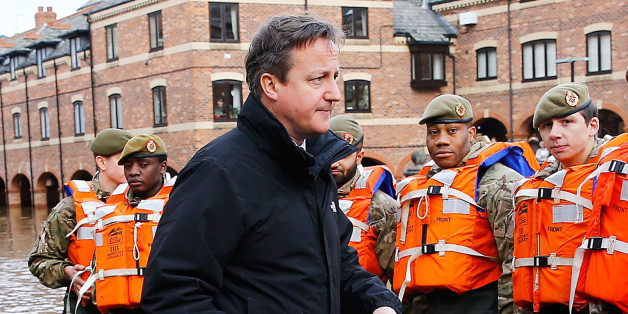 Darren Staples/PA Wire
There are obvious reasons why people are angry that vast swathes of the north of England and Scotland have been devastated by flooding, from being made homeless and costly renovation to the crumbling roads and bridges. But the political response - to this and previous floods - has faced criticism. Here are just six sore points.
1. Funding for flood defences
Flood-hit communities in Cumbria, Yorkshire and Lancashire are being kicked around like the proverbial political football. Funding cuts have been the centrepiece of the Labour attack, but fiercely disputed by the Government.
The truth is hard to get to.
In 2011, the coalition Government admitted an 8% cut over four years - but made great play of how much flood defence spending had been protected against deeper savings made in other Whitehall departments.
But that was just the start of the spinning. If you started counting - or the "baseline" - in a different year, the cut was as high as 27%. But, taking into account inflation, you could argue spending was "about the same", as the Government did.
What do independent sources say?
Much quoted on Twitter is a House of Commons briefing paper which suggests between 2011-12 and 2014-15 a total of £2.17 billion in funding was committed for flood and coastal defences - a 6% cut or 20% in real terms compared to the previous spending period.
House of Commons Library confirms flood defence spending has been cut since 2010 after rising for some years. pic.twitter.com/Eggj6x1WZQ

— Paul Lewis (@paullewismoney) December 28, 2015
But here come the Government caveats.
After flooding in 2012 a £120m boost was given. Plus ministers point to money being pumped in by firms and local councils under the new "partnership" model: part central government-funded rather providing than 100%, the idea being more bang for the buck.
So when David Cameron has toured flood-ravaged areas, and points to the £2.3 billion spent by 2020 being an increase, it is against all these variables. And when you see the Government has slashed funding by £116 million in 2015-16 - it has - its response will be that over the longer run there is in fact an increase.
Which all seems like fiddling while Rome burns when the independent Committee on Climate Change says an extra £20m plus inflation per year for the next 25 years is needed to keep pace.
2. History repeating itself
It was at the end of 2013 and early 2014 when flooding was last causing the Government a major headache. The South West was the main backdrop, notorious for the main railway line to Cornwall collapsing into the sea and the lowland Somerset Levels being submerged for weeks.
Cash was made available for recovering farmland and each region was given a "floods minister", but no comprehensive review was commissioned or carried out despite David Cameron promising "lessons were to be learned".
In fact, many point to the independent Pitt review - commissioned after floods in 2007, calling for much more funding for protection - not being fully implemented.
We had 2007 Pitt Review, my 2009 #climatechange #adaptation report etc, etc, and here we go again: https://t.co/3LfrMIrpay #smellthecoffee

— Dr Tim Fox (@DrFox_Tim) December 30, 2015
3. Stage-managed photocalls
Politicians in Wellington boots and North Face jackets pointing at water has become a hallmark of dealing with a flooding crisis.
Two years ago then Environment Secretary Owen Paterson faced ridicule for not wearing his boots - he left them in his 4x4 after being surrounded by angry locals and the media - and David Cameron this week reportedly bought a £13 pair from the supermarket rather than don his "posh" Hunter boots.
In fairness, they are damned if they do and damned if they don't visit: Cameron was jeered but imagine the outcry if he remained in his Downing Street bunker?
However, one Yorkshire Labour MP suggested the pictures were more stage-managed than many victims would hope.
Yep. It was the usual official welly pix. Some of the people he met were subject to prior screening. https://t.co/WeJPOEOdJA

— Jon Trickett (@jon_trickett) December 30, 2015
4. Where are promised defences?
Most communities are complaining about defence schemes that have been cancelled, postponed or down-scaled. A proposed £180m flood barrier for Leeds, dropped in 2011 and replaced by a smaller £45m scheme, has been the most quoted in recent days.
Lib Dem leader Tim Farron, whose Cumbria constituency was severely hit, said that the situation had been made worse because nearly 300 flood defence schemes had been dubbed "low priority" and shelved in recent years.
5. An alleged North-South bias
The Yorkshire Post was most prominent in calling out an apparent favouritism - the Thames Valley and South West, where the Conservative Party has more voters, were getting a better deal than the North West and East, where it has modest support.
YORKSHIRE POST: PM faces tide of flooding fury #tomorrowspaperstoday pic.twitter.com/SVr54MAIkS

— Neil Henderson (@hendopolis) December 28, 2015
Judith Blake, Leeds city council leader, said during the last wave of floods "other flooding events in the north ... didn't get anywhere near the support that we saw going into Somerset."
The Government dismisses the claim. Over the next six years, £54 per head annually would be spent in the North and East region, and £42 in the South East. But these vast, meaningless regions - the West (£20 per head) includes Liverpol and Penzance in Cornwall - arguably tell us nothing.
Moreover, one council leader claimed emergency aid was blocked by Whitehall officials.
Treasury 'blocking emergency flood relief' - Rochdale council leader https://t.co/R2oz9m1XT0

— Jennifer Williams (@JenWilliamsMEN) December 29, 2015
6. Flooding boss on holiday
The media has been getting animated over the chairman of the Environment Agency, the quango which oversees flood defences, leaving the country to holiday in the Caribbean. The criticism metered out to Sir Philip Dilley is similar to that given to his predecessor Lord Chris Smith, who got flak for being "weak, half-shifty, half-arrogant interviews" during the last major deluge, and one Tory MP said he was going to "get him".
If Carlsberg did excuses...

Via @Telegraph #floods pic.twitter.com/YzbBvG4CjG

— Kay Burley (@KayBurley) December 30, 2015