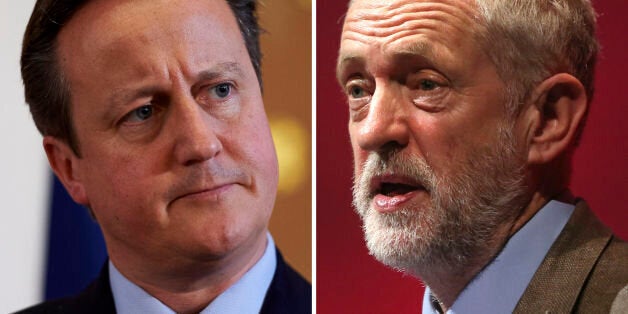 David Cameron has been accused of using Jeremy Corbyn's prolonged Labour reshuffle as cover for his announcement that Conservative ministers will be allowed to campaign for Britain to leave the European Union.
The prime minister announced on Tuesday that his cabinet will be free to argue on either side of the referendum debate even though the government will present a "clear recommendation" to the country.
Cameron told the Commons it would be "open to individual ministers to take a different personal position while remaining part of the government".
He said he would not "strong arm" his ministers into campaigning in favour of a position on the EU that they did not agree with.
Former Conservative deputy prime minister Lord Heseltine recently warned the prime minister would be "a laughing stock across the world" if he allowed his ministers to campaign on the opposite side of the referendum to him.
However former Tory chief whip Andrew Mitchell told the BBC it was the "obvious decision" for the prime minister to take.
Cameron is widely expected to recommend Britain remain inside the EU. Eurosceptic Tory MPs have argued ministers who disagree and want the UK to leave the union should be allowed to do so without having to quit their jobs.
Several cabinet ministers are rumoured to want to campaign in favour of Brexit.
The announcement comes as much of Westminster's attention is focused on Corbyn's long-awaited and contentious shake-up of his shadow cabinet.
Former shadow chancellor and Corbyn critic Chris Leslie told the BBC's Daily Politics Cameron had been able to use the Labour reshuffle to "hide beneath this a major change on European referendum policy".
Labour MP Tom Blenkinsop said Cameron was using Labour's internal divisions "hide" the divisions within his own party over Europe.
Writing for The Huffington Post, Lib Dem leader Tim Farron said: "The prime minister has used Labour's implosion, or day two of their reshuffle if you are being kind, to sneak out an announcement that his Ministers will be free to campaign on either side of the referendum on Britain's continued membership of the EU.
"It is yet another day that Britain needed David Cameron to show the courage of his convictions. It is sadly yet another day he has flunked that test and capitulated to calls on his right flank."
And he said Cameron was copying "Corbyn's weak style of leadership" by granting a free vote. "Now is not the time to back down. The government should take a collective position on this issue, and if ministers disagree with the prime minister they should resign," he said.
Both Labour shadow business secretary Angela Eagle and former shadow cabinet minster Mary Creagh said Cameron's decision showed he was "weak weak weak".
And Labour backbencher Wes Streeting said it was "simply incredible" that the Conservative Party would not have a unified position on EU membership. "Cameron's EU weakness once again shows he puts party before country," he tweeted.
Matthew Elliott, the chief executive of of pro-Brexit Vote Leave campaign, welcomed the reports ministers would be given a free vote.
"We hope that many Ministers will speak out honestly about how much of their jobs are now really controlled by Brussels, not by the votes of the British public, and how it is much safer to Vote Leave," he said.
"The referendum could be as little as 170 days away, so Ministers should be allowed to campaign openly as soon as the renegotiation is complete – and certainly no later than the end of the European Council in February. The British people deserve to hear where their elected representatives stand on this vitally important issue."
Related