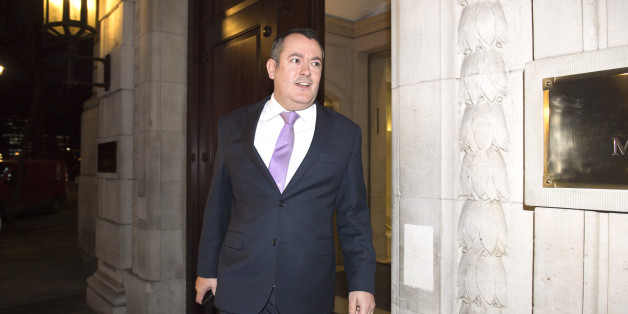 Anthony Devlin/PA Wire
Labour's civil war continued tonight as the senior MP sacked by Jeremy Corbyn accused his team of deploying a "barrage of briefing" against "good, decent and loyal" members of the Shadow Cabinet.
The Labour leader's first significant act in the so-called "revenge reshuffle" was this morning to axe Shadow Culture Secretary Michael Dugher for writing a critical piece written for political magazine, the New Statesman.
After seven members of the Shadow Cabinet made public their support for the Barnsley MP, Mr Dugher appeared on BBC Radio 4's PM programme to criticise the "systematic process" of briefing against MPs by Mr Corbyn's inner circle.
The MP, a former Gordon Brown media aide, was among 10 members of the Shadow Cabinet to vote for RAF airstrikes in Syria, which is said to be fuelling the Labour leader's re-arrangement of his top team.
Shadow Foreign Secretary Hilary Benn, Shadow Defence Secretary Maria Eagle and Chief Whip Rosie Winterton featured most often as being vulnerable in recent reports.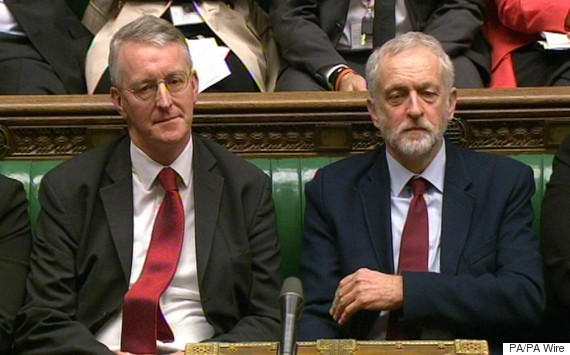 Shadow Foreign Secretary Hilary Benn (left) and Labour Party leader Jeremy Corbyn in the Commons this afternoon
Mr Dugher said: "I was sick and tired over many weeks of stories coming out from people who he chooses to employ.
"There was this barrage of briefing saying that good, decent, loyal members of the shadow Cabinet - named at length - would be fired in a 'revenge reshuffle' because they took a different position to Jeremy on a free vote on Syria."
He also stood by comments criticising the Momentum campaign group, which was set up to champion Jeremy Corbyn and his policies, and labelling some of their members as acting like a "mob".
"You will not find a quote from me attacking Jeremy Corbyn," he said. "The comments I made about Momentum? I said at times - at times - they had acted like a mob.
"The way that many of them have taken to social media, condemned good Labour MPs because they took a very difficult decision on military action, extending it from northern Iraq to Syria ... that these colleagues were being condemned as 'Red Tories' and they should be kicked out the party.
"In fairness, Jeremy Corbyn spoke out against this abuse as well. I was critical of Momentum and rightly so."
He also questioned the time it was taking to get the job done as details were looking like they may not emerge for another day. "If you're going to spend three days doing it, fine. But that could be three days attacking the Conservatives," he said.
Mr Dugher took to Twitter straight after a getting a phone from Mr Corbyn to announce he had been "sacked" - then added it was because Mr Corbyn "didn't like things I'd been writing (in defence of good colleagues and new politics)".
Just been sacked by Jeremy Corbyn. I wished him a happy new year.

— Michael Dugher MP (@MichaelDugher) January 5, 2016
Jeremy said he didn't like things I'd been writing (in defence of good colleagues & new politics). Well here it is https://t.co/prMdUislEe

— Michael Dugher MP (@MichaelDugher) January 5, 2016
Significantly, Labour deputy leader, Tom Watson, heaped praise on Mr Dugher as he recognised the "loss" to the Shadow Cabinet.
He said: "Michael Dugher is a rare politician - a talented working class MP who hasn't lost his strong Yorkshire roots.
"Politicians with his ability and commitment can make a difference in any role. Labour's loss in the Shadow Cabinet will be compensated by Michael's free thought on the backbenches."
Labour jeopardising its working-class origins was picked up on by a number of Labour MPs, and could be seen as a swipe by them at Mr Corbyn's comfortable upbringing.
.@MichaelDugher With the sacking of Dugher, traditional working class Labour is dying. pic.twitter.com/qFZGZmJ4v6

— Graham Jones MP (@GrahamJones_MP) January 5, 2016
The picture is a reference to the controversial tweet made by Labour MP Emily Thornberry, apparently sneering at working-class families, which saw her lose her front bench job under Ed Miliband. She has been touted for promotion under Mr Corbyn.
Image from #Rochester pic.twitter.com/rOjTgpskmF

— Emily Thornberry (@EmilyThornberry) November 20, 2014
Mr Dugher wrote last week about a "revenge reshuffle" not being very "new politics".

"I was also attracted by Jeremy's call for a new, kinder politics. This would be one where there would be room for a little dissent and where the party, including the Shadow Cabinet, would have the confidence to have proper debates and discussions.

"What greater evidence of this than his decision that, despite his strong opposition to military action, there should be a free vote on Syria? And his insistence that all sides of the debate should respect one another's different but sincerely held points of view."
Andy Burnham, the Shadow Home Secretary, also praised Mr Dugher, who ran his leadership campaign.
.@MichaelDugher is Labour to the core & has served our Party with distinction. He can leave the front-bench with his head held high.

— Andy Burnham (@andyburnhammp) January 5, 2016
Vernon Coaker, Labour's Northern Ireland spokesman, paid tribute.
Really sorry to see @MichaelDugher leave Shad Cab. He will be missed!He will be just as ferocious attacking the Tories from the b/benches

— Vernon Coaker MP (@Vernon_Coaker) January 5, 2016
As did Shadow Education Secretary, Lucy Powell.
Very sorry to see @MichaelDugher leave Shadow Cabinet. Michael is a formidable campaigner who provides an important & authentic voice.

— Lucy Powell MP (@LucyMPowell) January 5, 2016
And another member of the Shadow Cabinet, Jon Ashworth, offered his support too.
I've been mates with @MichaelDugher since I was 16. Sorry to hear this news. I know he will continue to campaign hard for the party he loves

— Jonathan Ashworth MP (@JonAshworth) January 5, 2016
They were followed by Ian Murray, the Shadow Secretary of State for Scotland.
Disappointed that @MichaelDugher will not be around Shadow Cabinet table. A gr8 parliamentarian, super guy & ferocious opposer of injustice.

— Ian Murray (@IanMurrayMP) January 5, 2016
And Chris Bryant, the Shadow Leader of the House.
I'm sorry to see @MichaelDugher has left the Shadow Cabinet - although he never once recognised the UK brass band supremacy of @Coryband

— Chris Bryant MP (@RhonddaBryant) January 5, 2016
But the wall of praise was not thought to be an orchestrated attempt to undermine the leader.
Shad Cab source: friends of Dugher wanted to ensure he got dignified exit, but no calculated snub to JC. Praise is 'spontaneous/heartfelt'

— Paul Waugh (@paulwaugh) January 5, 2016
Though the sacking prompted many Labour backbench MPs to condemn the move.
Sad to see this. @MichaelDugher is a highly effective & authentic voice 4 working ppl & a great champion for #Labour https://t.co/bGFEhfFqxD

— Dan Jarvis (@DanJarvisMP) January 5, 2016
How's make-it-work working out?

— Gavin Shuker (@gavinshuker) January 5, 2016
Where's the broad church in all of this? Dugher is an effective communicator. Big mistake. https://t.co/PKgeSjSKh0

— angela smith (@angelasmithmp) January 5, 2016
Michael Dugher told it straight about the way this Momentum group seems to be a vehicle for Labour's opponents. Huge respect to him.

— John Woodcock (@JWoodcockMP) January 5, 2016
Very disappointing - Michael was doing some great work on opening up arts & culture to people from all backgrounds https://t.co/0WBiCG9EDY

— Anna Turley MP (@annaturley) January 5, 2016
Tory culture minister Ed Vaizey even chipped in.
Very sorry to hear that. You are passionate and effective on DCMS issues https://t.co/bbhbceTn6h

— Ed Vaizey (@edvaizey) January 5, 2016
And political observers suggested there would be unintended consequences.
Dugher sacking reminds me of the famous LBJ phrase about tents and piss. I predict someone is about to get very wet indeed.

— Philip Cowley (@philipjcowley) January 5, 2016
Mr Corbyn is expected to confirm his Shadow Cabinet reshuffle on today amid continuing doubt over the role of key figures on his frontbench.
The Labour leader had an hour-long meeting in his Commons office on Monday night with Shadow Foreign Secretary Hilary Benn and a half-hour meeting with Shadow Defence Secretary Maria Eagle.
Mr Corbyn is understood to want greater "coherence" on foreign and defence policy after damaging divisions over Syria and Trident of late, in order to allow him to focus on the unity within the Parliamentary party over domestic and economic policy.
But he is also keen to avoid further damage that could be triggered by moving Mr Benn, as well as Shadow Chief Whip Rosie Winterton. Ms Winterton is said to have warned the leader of a wider walkout if Mr Benn was fired.