Jeremy Corbyn replaces shadow culture secretary, shadow defence secretary and shadow Europe minister
Three shadow ministers quit Labour frontbench in protest
Hilary Benn survives reshuffle, denies he's been gagged
Ex-minister says new shadow defence secretary 'nothing' about defence
Shadow foreign office minister Stephen Doughty quit the Labour frontbench live on television on Wednesday morning in protest at Jeremy Corbyn's reshuffle of his shadow cabinet.
He is one of three shadow ministers to have resigned so far over the changes made by the Labour leader. Shadow rail minister Jonathan Reynolds and shadow defence minister Kevan Jones have also quit.
Doughty announced he was resigning just minutes before Corbyn got to his feet to face David Cameron at prime minister's questions.
He told BBC 2's Daily Politics programme he was quitting in protest at Corbyn's decision to fire shadow Europe minister Pat McFadden.
"When an individual like that has been singled out for a sacking for words that I completely agree with I think it's only the honourable thing for me to do tender my resignation," he said.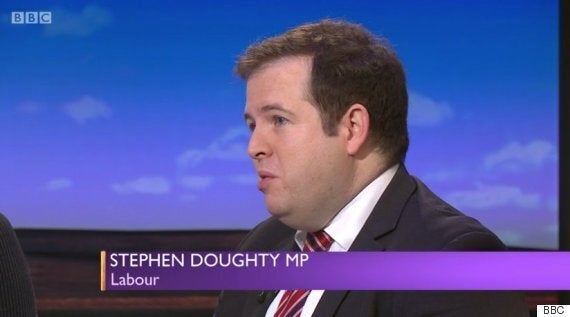 This morning Shadow Chancellor John McDonnell said McFadden was fired for "undermining Jeremy's status" and for having "distorted" the Labour leader's views on terrorism in the wake of the Paris attacks.
But Doughty said people in Corbyn's office had been telling "lies" about the reason McFadden had been fired. "There is a tendency of some of those around him [Corbyn] and in his team to be conducing some pretty unpleasant operations," he said.
McFadden told BBC Radio 4's Today programme this morning he had lost his job after he used a question to Cameron in the Commons to argue those who saw the Paris terror attacks as a reaction to Western foreign policy risked "infantilising the terrorists".
He said: "When I spoke to Corbyn late last night he referred a few times on the phone to this question. He said he felt that it was an attack on him and that he'd come to the conclusion because of that and one or two other things that I shouldn't continue."
In a letter to Corbyn, Jones said he was moving to the backbenches to argue in favour of the renewal of Britain's nuclear deterrent - something the Labour leader opposes. "I am determined to continue making the case for Labour to have strong, credible defence and security policies," he said.
Corbyn completed his marathon shake-up of his top team in the early hours of Wednesday morning, which also saw Michael Dugher fired as shadow culture secretary for having been too critical of the leadership and Maria Eagle moved sideways from defence to take his place.
Emily Thornberry has been promoted to replace Eagle at defence. In a round of media interviews following his resignation, Jones said Eagle had not wanted to be moved and attacked the appointment of Thornberry.
"I think appointing Emily is a mistake," Jones said. "She knows nothing about defence."
Shadow foreign secretary Hilary Benn, who had been rumoured to be facing the chop, has survived in post.
In December, Benn famously used a speech from the Labour frontbench to encourage Labour MPs to vote in favour of military strikes against Isis in Syria - in direct opposition to Corbyn's position.
Speaking this morning, McDonnell denied Benn had been gagged, but said this would not be allowed to happen again and in future Benn would have to speak from the backbenches if he disagreed on foreign policy.