With Ricky Gervais set to take to the stage in Hollywood for his fourth Golden Globes hosting gig, the A-list luminaries in the room will be spending their weekends practising their rictus grins, in the certain knowledge that some poisoned darts will be flying in their direction on Sunday evening.
There's some cause for relief, though, because Ricky has said he won't be making any jokes that he "can't justify it morally".
"I probably wouldn't have a go at someone's affair if their partner was still there — you know, it's not their fault. That's collateral damage for me," he says.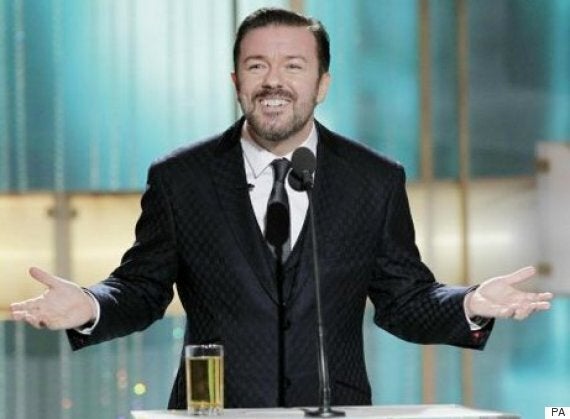 2016 will be Ricky Gervais's fourth stint on Golden Globes duty, and he's insisted on being able to say what he likes
Besides Ricky, these Awards have two reasons to recommend them, other than their willingness to nominate the most glamorous stars they can hope to attend on the night - yes, we ARE talking about Johnny Depp and Angelina Jolie, BOTH nominated for 'The Tourist' in 2011, something Ricky gleefully spotted...
"I'd like to quash this ridiculous rumour going around that the only reason The Tourist was nominated was so the Hollywood Foreign Press could hang out with Johnny Depp and Angelina Jolie. That is rubbish. That is not the only reason. They also accepted bribes."
More positively, they embrace both TV and film, which really does mean something for everyone, and are voted for by Hollywood's Foreign Press, which makes for a far more diverse list than you'll generally find floating around the Academy's tables come Awards Season.
Ricky last hosted in 2012, what he called his definitive swansong, after three years at the helm, but he told Ellen DeGeneres this week that he'd been persuaded back by the fact, "They said I could say what I want again."
Ricky also told Ellen: "If I didn't drink, I wouldn't be brave enough to say some of the things I'm going to say."
In previous years, Ricky cracked up his millions of viewers, and forced some chuckles in the hall, with his riffs on Scientology, secretly gay stars and A-listers generally thinking they're better than everyone else. Who is left to offend?
See below for some of Ricky Gervais's best/most offensive lines so far during the Golden Globes...
Ricky previously explained to HuffPostUK why he feels it is his duty to prick the balloons of the egos in the room in front of him...
"It's part of my responsibility as a comedian to say exactly what I want, not even what I believe," he said. A lot of jokes are lies. You credit the audience with enough intelligence for them to know what's based in truth, what's being honest, what's being reflective, what's satirical, what's ironic, and what's being silly, naughty and stupid, and when you're being the butt of the joke.
"Outside that, you make certain decisions, do I pander to the 200 people in the room or the 200 million watching at home? No contest. It's not a spectator sport. If they wanted somebody to do more mutual backslapping to these most privileged people in the world, then get someone else."
Of course, the situation is made more complex because Gervais is one of those 200 special people himself, with a fortune bursting with Office royalties, homes on both sides of the Atlantic and a speed-dial that now takes in half of Hollywood. He doesn't pretend anything else for a minute.
"It looks like I'm pretending to be this Christ-like figure who goes in there and pricks the bubble of pretension. I'm like them! I am them! A lot of them are my friends. I admire a lot of them, and a lot of the times, I feel as spoilt as they are.
"When I'm the comedian on stage, I'm playing a role, I have to be the outsider. I can't go 'hey, great doing that film together, see you after for a drink'.
"I'm acting for the bloke watching at home."
"Looking at all the wonderful faces here today reminds me of the great work that's been done this year … by cosmetic surgeons."
"For any of you who don't know, the Golden Globes are just like the Oscars, but without all that esteem. The Golden Globes are to the Oscars what Kim Kardashian is to Kate Middleton. A bit louder, a bit trashier, a bit drunker, and more easily bought. Allegedly. Nothing's been proved."
"Actors aren't just loved here in Hollywood, they are loved the world over. You could be in the third world and get a glimpse of a Hollywood star and it could make you feel a little bit better. You could be a little Asian child with no possessions and no money. But you could see a picture of Angelina Jolie and you'd think, 'Mummy!'"
"I hope I haven't offended anyone. It's not my fault. I like a drink as much as the next man. Unless the next man is Mel Gibson."
"Speaking of The Walking Dead, congratulations to Hugh Hefner, who's getting married at the age of 84 to 24-year-old beauty Crystal Harris. When she was asked why she was marrying him, she said it was because he'd lied about his age. He told her he was 94… Just don't look at him when you touch him."
"The Golden Globes... doesn't just celebrate talent, it celebrates difference. It crushes prejudice and stereotype. One stereotype I hate is that all Irishmen are just drunk, sweary hell-raisers. Please welcome Colin Farrell."
On the film, 'I Love You Phillip Morris': "Jim Carrey and Ewan McGregor, two heterosexual actors pretending to be gay. So the complete opposite of some famous Scientologists, then. My lawyers helped with that joke."
On 'Bridesmaids' star Melissa McCarthy: "She made her mark in comedy this summer by defecating into a sink. Amazingly, that's still less demeaning than what most of you have done to make it in show business."
About Tom Hanks and Tim Allen: "What can I say about our next two presenters? The first is an actor, producer, writer and director whose movies have grossed over $3.5 billion at the box office. He's won two Academy Awards and three Golden Globes for his powerful and varied performances starring in such films as 'Philadelphia', 'Forrest Gump', 'Castaway', 'Apollo 13' and 'Saving Private Ryan'. The other is Tim Allen."
"It's going to be a night of partying and heavy drinking, or as Charlie Sheen calls it: Breakfast."
"There were a lot of big films that didn't get nominated. Nothing for Sex and the City 2. I was sure the Golden Globes for special effects would go to the team that airbrushed that poster."
"Last year, our next presenter won both the Golden Globe and the Oscar for her work in Black Swan. This year, she took some time out to have a baby. Consequently, she's been nominated for nothing. Really pathetic. But she learned that valuable lesson you all already knew — never put family first. Please welcome the very foolish Natalie Portman."
"It seems like everything this year was three-dimensional, except the characters in The Tourist."
Despite this, he says now he doesn't see why people found his previous hosting remarks so controversial.
He told the Hollywood Reporter: "That stuff I did, I was shocked that people thought that was shocking. I thought, what have I said wrong? I didn't say anything outrageous or libellous. I didn't say anything against broadcasting rules. It was on network television, late afternoon, it couldn't have been that bad."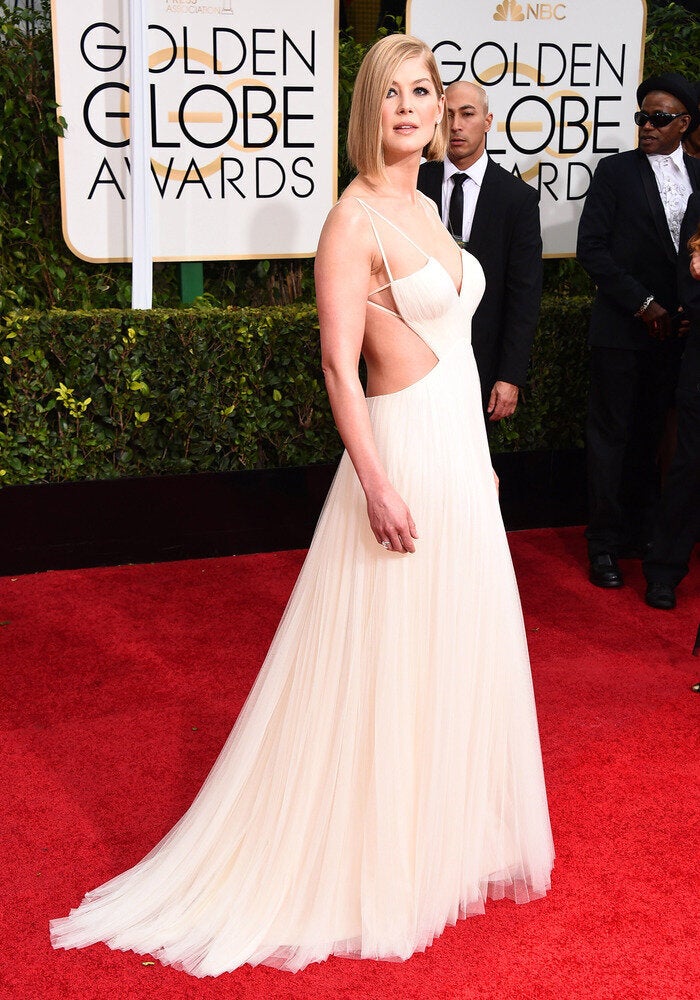 2015 Golden Globes Red Carpet
Popular in the Community