David Cameron is facing mounting pressure to get the RAF involved in securing aid to starving inhabitants of the Syrian town of Madaya.
Amid shocking new footage of emaciated children and the elderly in the rebel-held town of 40,000 people, the Prime Minister said that the stories were 'heart-wrenching' and underlined the importance of new peace talks due in London next month to get a ceasefire in the Syrian civil war.
But Mr Cameron was urged by Labour's Hilary Benn and backbench MP Jo Cox, as well as former Lib Dem leader Paddy Ashdown, to act with more urgency and "be far bolder" to help those who have been trapped in the siege by the Assad regime and its Hezbollah allies since July.
Residents of the town have been forced to eat leaves, grass, cats and dogs in order to survive, and 31 cases of death by starvation were officially recorded last month.
Following outcry across the world, Damascus finally agreed overnight to allow the United Nations to break the siege with medical and food aid and trucks are due to arrive by Monday January 11.
Yet despite TV footage appearing yesterday, Downing Street appeared caught cold by questions as to the UK government's response today, referring only to the need to work through the UN.
PM: Stories out of Madaya are heart-wrenching & underline why next month's Syria summit in London is vital for those in desperate situations

— UK Prime Minister (@Number10gov) January 8, 2016
Mr Cameron tweeted his thoughts, but critics urged much more action.
Ms Cox told BBC Radio 4's World at One programme that it was time to even consider RAF food drops to the town.
In a letter to the Prime Minister, she and Lord Ashdown said that the UN estimates that 400,000 people remain besieged across the country.
"We find it astonishing that so little has been done by the international community to break these sieges when life-saving medical and food aid are often only minutes away."
Ms Cox and Lord Ashdown added that if the UN continued to be denied access , "the UK should strongly consider airdropping aid to those communities at risk of starvation".
"In some of these areas, the RAF is already flying anti-ISIS missions, and if necessary this is something we should press our European partners to support.
"Like the airdrops by the US in 2014 to the Yazidis in Iraq, and the leadership shown by the last Conservative Government to save lives with similar action in Northern Iraq, there are immediate steps we can take to stop more vulnerable people dying needlessly of hunger. We cannot sit by and watch this happen."
They added that while Damascus' agreement to allow the UN into Madaya was welcome, the move "may prove to be yet another empty gesture, and does not change the pattern of besiegement across Syria".
"The UK played a critical role in negotiating several Security Council resolutions authorising UN agencies to deliver aid across conflict lines and break these sieges.
"To date, however, far too little has been done to challenge the Assad regime's unacceptable veto over aid distribution to these areas."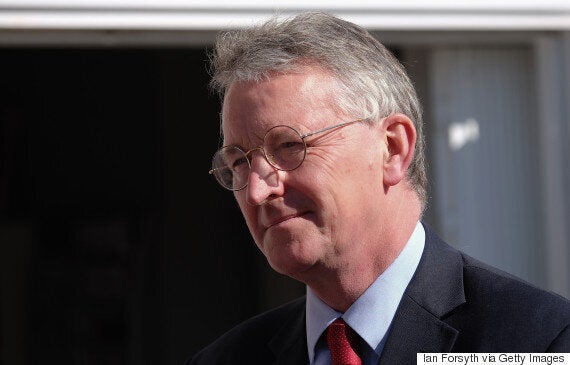 Shadow Foreign Secretary Hilary Benn called for more urgent diplomacy
Shadow Foreign Secretary Hilary Benn said: "It is vital that humanitarian aid is urgently delivered to the long-suffering people of Madaya and the other besieged towns.
" The residents there are among hundreds of thousands who are short of food in Syria. What they need more than anything else is an end to hostilities and a ceasefire as quickly as possible.
"The difficulties of establishing aid corridors to Madaya and elsewhere through territory controlled by several different armed combatant groups is a reminder that this terrible conflict needs to be brought to an end through negotiation and diplomacy.
"I urge the government to strain every sinew to ensure significant progress is made when the peace talks resume on 25 January."
A Department for International Development (DfID) spokesman told HuffPost UK that the Government had been "at the forefront of the response to the crisis in Syria since day one", and "remained seriously concerned about the acute humanitarian situation in Madaya and all other besieged areas".
"It is essential that the Syrian government delivers on its commitment to allow aid to Madaya, and we are closely monitoring the convoy which was approved yesterday".
But DfID said there were no plans for the RAF to deliver humanitarian assistance by air, believing the idea to be high risk and only considered as a last resort when all other means have failed.
The UK has pledged over £1.1 billion to the crisis in Syria and the region, its largest ever response to a single humanitarian crisis.