Winston McKenzie has once again rubbed 'Celebrity Big Brother' viewers up the wrong way with his behaviour in Thursday night's episode.
READ MORE:
First off, he offended some 'CBB' fans with his rant about not sharing a bed with a male housemate, repeatedly insisting that there was no way he'd be willing to have one of the men in the house as a bed-mate.
This came just days after he sparked a backlash with comments he made in his opening VT, revealing how he would "deal with a homosexual" in the 'CBB' residence.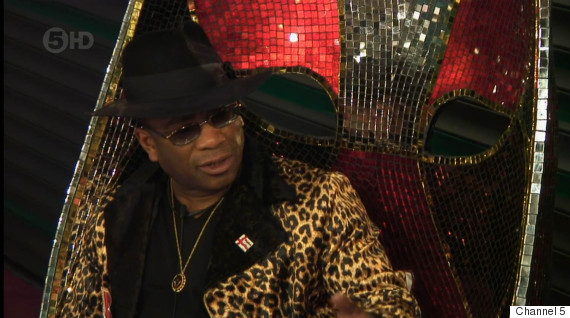 Winston McKenzie
However, if you thought that was bad, his behaviour took an even worse turn as he appeared to make advances towards two of the female housemates.
The former UKIP member invited reality star Tiffany Pollard to join him on his bed, where he whispered to her to "get under his sheet", which she managed to laugh off despite her apparent discomfort.
Clearly failing to woo his housemate, he then moved onto Nancy Dell'Olio, inviting her to "give him a hug good night", which she - surprise, surprise - declined.
Fans of 'CBB' have branded Winston "disgusting", "lecherous" and "a creep" for his behaviour towards the female housemates, with some suggesting producers should have intervened, and issued him with a warning.
Winston was absolutely disgusting and inappropriate with Tiffany😷 Should definitely get a formal warning for that #CBB

— Jess (@jesscolfar) January 7, 2016
what a lecherous old pervert Winston is! Dirty old man. #CBB2016

— CR∆IG (@underthest0rm) January 7, 2016
Winston Mckenzie , disgusting homophobic lecherous creep!!!! #CBB#CelebrityBigBrother

— Vicky (@vcshutts) January 7, 2016
That Winston is a creep. C'mon @bbuk he needs a warning for that. Disgusting man. #CBB2016#CBB

— Lianne Johnston (@LianneJohnston) January 7, 2016
#CBB Winston should go and Shane on big brother for not talking or warning him in the diary room!

— Ibrahim Banks (@TheShowOff85) January 8, 2016
#CBB2016 Why is Winston such a sex pest? He makes my skin crawl 😷 I don't think he needs to worry about men or women hitting on him #Vile

— RobynLynne (@OhRobynLynne) January 8, 2016
Winston is such a perv, I hate men like him #CBB

— Jack (@JackAttree) January 7, 2016
It's not alright to be gay but it's alright to be a perv 🏃🏽 #CBB#Winston

— SB (@ShelbyBarrett_) January 7, 2016
Winston is currently one of three housemates facing Friday's first live eviction of the series, alongside Nancy Dell'Olio and Kristina Rihanoff.
Find out which of them gets the boot in tonight's (8 January) 'CBB', kicking off at 9pm on Channel 5.
LIKE US ON FACEBOOK | FOLLOW US ON TWITTER