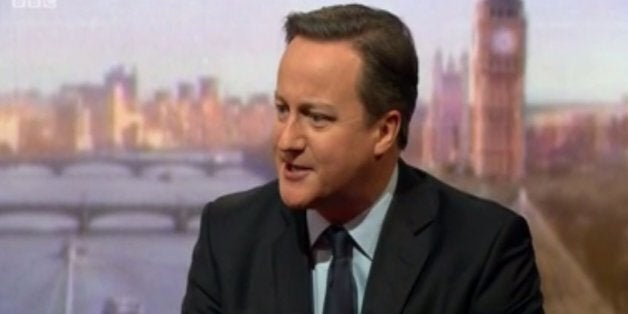 David Cameron has refused to rule out preventing British workers from claiming in-work benefits as a way to legally prevent European migrants from receiving welfare.
A key plank of the prime minister's plans to renegotiate Britain's membership of the European Union is his hope of preventing EU immigrants to Britain from claiming benefits for four years.
However such a move faces stiff opposition from other EU member states and could be against current European law as it would discriminate against immigrants.
Asked on Sunday whether he is considering also extending the ban to some British workers to get around the law, Cameron refused to answer.
"Four years remains on the table until I can see something equally powerful and meaningful," he said. Cameron said he wanted to halt the "unnatural draw" of the UK welfare system.
Pressed on the Andrew Marr programme on whether he would withdraw benefits from British-born workers, he said: "I am in the middle of a negotiation, I have got hard work to do, when I've got an announcement to make I'll make it."
Cameron also said he will try to remain as prime minister even if he loses the upcoming European Union referendum. Marr asked: "If you lose the referendum, do you stay as prime minister? You can't can you?"
Cameron replied: "The answer to that is yes. My policy is to hold a renegotiation and then a referendum, that's what we promised in the manifesto, then to abide by what the British public say. I hope that answer will be staying in a reformed Europe."
The prime minister said it was "very important" that the question on the ballot paper was whether to remain or leave the EU, not "this politician's future or that politician's future".
Cameron has said he rules nothing out when it comes to which side of the referendum he will campaign on. However he is widely expected to argue in favour of continued membership.
Asked whether losing the vote would be a "shattering blow" to his authority, Cameron told Marr: "My authority depends on holding the renegotiation holding the referendum, that's what I promised, that's what I must deliver".
Popular in the Community