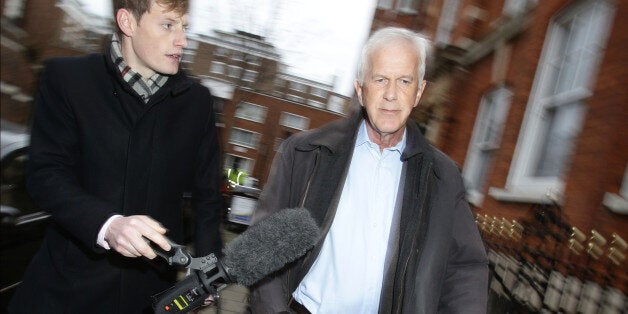 The chairman of the Environment Agency criticised for being on holiday in Barbados during the UK floods has hit out at "unacceptable" media intrusion as he today quit the job.
Sir Philip Dilley also said the "expectations" of the part-time, £100,000 a year role had "expanded" so he had to be "available at short notice throughout the year".
And he denied making "untrue or misleading statements", though admitted he "could have been clearer" when he approved a statement saying he was at home - but not that his home was in the Caribbean.
The agency tweeted pictures of Sir Philip visiting the floods when he returned
The 60-year-old, who works three days a week, told MPs last week his wife is from the Caribbean, and that when he is on Barbados he can "work from there".
"When I'm there I don't feel like I'm away, I'm home," he told them amid accusations of overseeing a "PA disaster".
As flooding devastated Yorkshire, Cumbria and Scotland in particular, the Environment Agency initially said Sir Philip was "at home with his family". It finally released a statement admitting he had spent Christmas on the island with his family.
He told MPs on the environment select committee that he took responsibility for the agency's statement, saying: "I saw it, I approved it, so it's my problem."
In a statement today explaining his resignation, he said:
"My reason for resigning is that the expectations of the role have expanded to require the Chairman to be available at short notice throughout the year, irrespective of routine arrangements for deputy and executive cover. In my view this is inappropriate in a part-time non-executive position, and this is something I am unable to deliver.

"Furthermore the media scrutiny focused on me is diverting attention from the real issue of helping those whose homes and businesses have flooded, as well as the important matter of delivering a long-term flood defence strategy. This same media attention has also affected and intruded on my immediate family, which I find unacceptable.

"I want to be clear that I have not made any untrue or misleading statements, apart from approving the statement about my location over Christmas that in hindsight could have been clearer."
Liberal Democrat leader Tim Farron, whose Cumbria constituency was hit by floods, said: "Many staff gave up their Christmas Eve, Christmas Day and New Year's Eve. Their boss should have joined them. It seemed to many that this organisation was bereft of its formal leadership when it was most needed. The public deserved better."