There's the crisp smell of the sea air, the soft sound of lapping waves, the panoramic vistas all around and the delicious taste of fresh, regional-based cuisine.
With multiple dining experiences to choose from onboard, there's plenty to tempt every palate and desire, whether you're looking for Norwegian open sandwiches and waffles (try Mamsen's Scandinavian deli), high tea and scones (head to the wooden-forest themed Wintergarden) or seafood al fresco (dine under the stars at the Aquavit Terrace).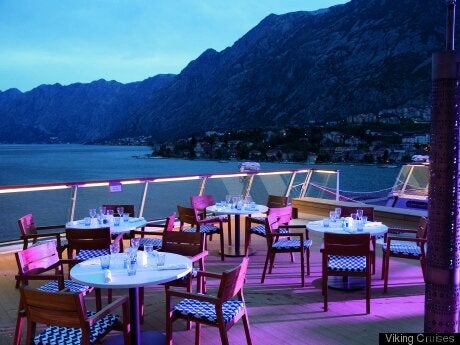 Surrounded by splendid views and sleek Scandinavian interiors, dining aboard Viking Cruises is a unique, laidback and simply delicious experience. The Director of Culinary Development, Anthony Mauboussin says, "On Viking we are like architects, constructing each menu with precision. There are over 450 dishes on rotation so no guest has to eat the same thing twice. We focus on quality not quantity and source the finest fresh produce from one port to another." Mauboussin adds, "We see food as a cultural experience. Fresh, locally sourced ingredients are used to recreate authentic regional dishes inspired by the destinations we visit, and we keep our dishes simple and true to their origins".
Restaurant meals are all included in your cruise package, or you can always enjoy a meal in the open air on the veranda of your stateroom thanks to 24-hour room service. Complimentary tea and coffees are also provided whenever you like and wine and beer are included with lunch and dinner.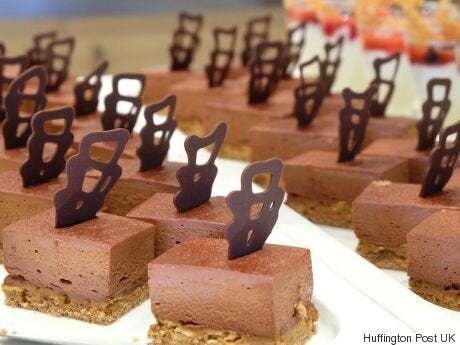 Italian food aficionados will love Manfredi's: the walls are plastered with playful photos of Italian celebrities, and diners aboard Viking ships can relish the taste of a variety of dishes including Orata Croccante (Gilt-head bream with potato fennel salad), Osso Buco alla Milanese (Braised Veal shank with Saffron Risotto) and the exceptional Bistecca Fiorentina (thick cut rib eye rubbed with porcini powder, kosher salt and chilli flakes).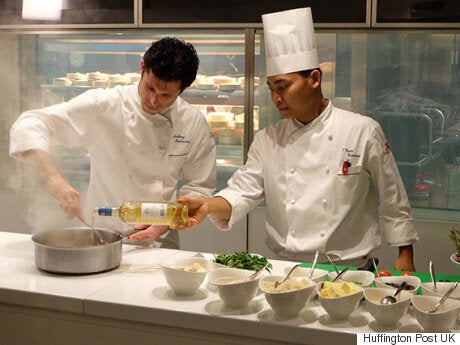 The Restaurant offers something for everyone, whether you're in the mood for fresh fish such as Herb crusted Tuna Steak or are looking for a classic French dish, like Lamb Shanks, Bonne Femme Style. Every table has a view of the sea and on warmer days the restaurant can be opened up to make it feel like you're on an alfresco terrace.
The breakfast and lunch buffets at the World Café are a firm favourite, and guests can watch chefs at work in the open kitchen (this is the place to get everything from sushi to fresh seafood onboard).
For the ultimate foodie experience - and when you're in the mood for some experimental fare - The Chef's Table offers fine dining, with a constantly changing, themed five-course degustation menu (together with wine pairing). Come with an empty stomach!
Central to dining aboard a Viking Ocean Cruises ship is the philosophy that learning about a destination's foodie traditions and practices is central to getting to the heart of where you're visiting.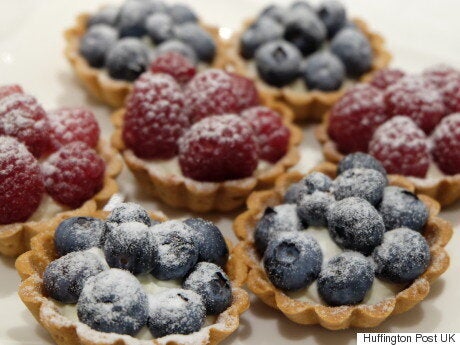 Thanks to Viking's cultural enrichment program, you'll find themed meals that celebrate Mediterranean, Baltic, Nordic or Caribbean cuisine onboard, like a buffet-style Taste of the Balkans dinner featuring local delicacies including börek (savoury pastries), Bulgarian shopska salad, ćevapčići (meat kebabs) and Serbian plum and juniper brandies. Onboard lectures and classes on regional cuisine by local chefs are also part of the cruise experience.
Guests looking to further enhance their culinary skills can book into an optional excursion at the Chef's Kitchen Table onboard Viking Ocean Cruises. This involves shopping with a celebrated chef at local markets in select ports, prep the ingredients onboard under the chef's tutelage and create a delicious meal you can savour in one of the private dining rooms. Long after the holiday is over, you'll find yourself recreating your new signature dish in your own kitchen.
If you'd like to try your hand at cooking Anthony Mauboussin's Spaghetti alla Vongole, here's how: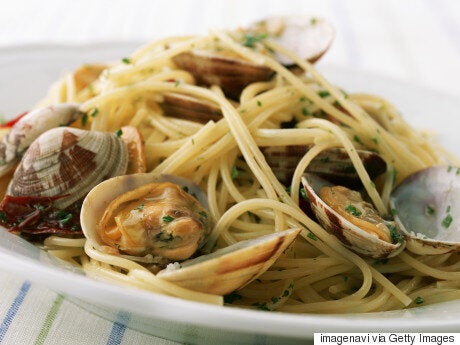 Large clove Garlic (finely chopped)
30g Fresh Parsley finely chopped
5g Chilli Pepper (finely chopped)
Black Peppercorn (ground)
- In a large saucepan over medium heat, warm the garlic and chilli in olive oil and fry until the garlic is golden brown (about 1 minute).
- Add the clams and wine. Cover and simmer over medium heat, shaking the pan occasionally until all of the clams open. (Do not reduce the juice).
- While the clams are simmering, bring a large pot of salted water to a boil. Add the pasta and cook, stirring frequently, until al dente.
- Drain the pasta and transfer to a large bowl. Add the clam sauce and parsley, toss well. (Keep the water from the cooking pasta as you may need to add a bit to the spaghetti). Serve immediately with a glass of cool Sauvignon Blanc. Enjoy!
Everything you need to enjoy yourself is included:

- Private veranda stateroom

- All meals on board in a variety of dining venues

- Complimentary wine, beer and soft drinks with lunch

and dinner on board

- Complimentary speciality teas and coffees 24/7

- Free 24-hour room service

- Included excursion in every port of call

- Free use of spa facilities

- Free Wi-Fi*

- Evening entertainment, lectures and port talks

- Return scheduled flights from the UK