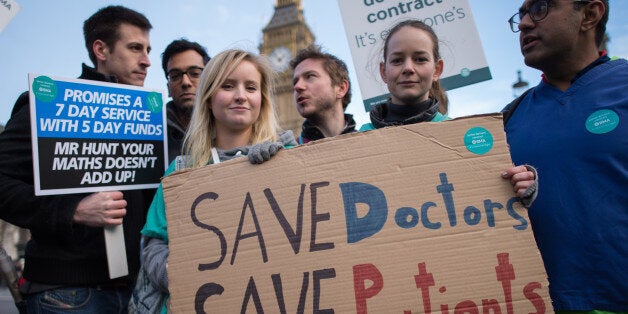 The Tory Government has stepped up its war of words with junior doctors, by highlighting stroke and newborn baby deaths are higher at the weekends when fewer NHS staff are on duty.
Downing Street said stroke mortality rates were 20% higher and baby deaths 7% higher than during the week and declared the public should know that the strike was about "delivering 24 hour, seven day care across the NHS".
But the statistics were swiftly challenged by the BMA, which told HuffPost UK "it would generally not be junior doctors who would be likely to be involved in these procedures".
And healthcare economists claimed that there was insufficient evidence to link stroke or newborn death rates to junior doctor staffing levels.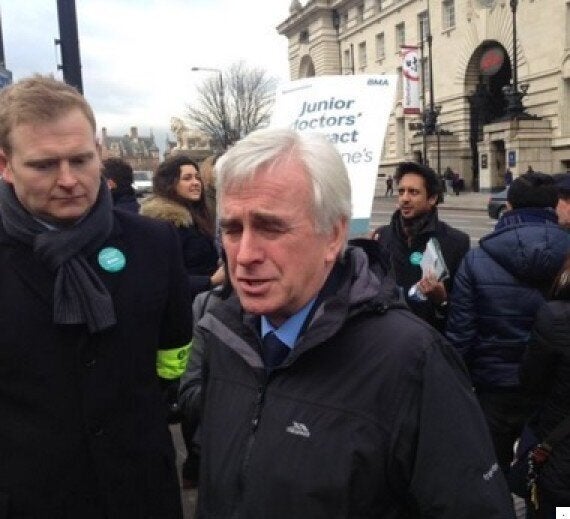 John McDonnell, Shadow Chancellor, outside St Thomas's Hospital
The fresh row came as Labour suggested that medics had 'no choice' but to take industrial action, a form of words that some in the party believed was the first official endorsement of any strike for more than 80 years.
Shadow junior health spokesman Justin Madders said: "Jeremy Hunt choose to pick a fight with the very people who keep our NHS running, and he has left them with no choice but to take this action."
Shadow Health Secretary Heidi Alexander also blamed Mr Hunt, but was more careful with her language, preferring to say that "we can understand why they [doctors] feel they've got no other option to get their point across".
Several moderates in Labour were determined not to be seen to back the strike explicitly, amid fears of the political fall-out if any patients are severely hit by the action, especially when A&E cover is pulled next month.
But Corbyn allies believe that supporting the strike is a key test of the party's new direction.
Jeremy Corbyn used his Facebook page to call on ministers to apologise for causing the action, while Shadow Chancellor John McDonnell was among a string of Labour MPs who joined doctors on the picket line outside hospitals across the country.
The Prime Minister's official spokeswoman said doctors "clearly" had a choice over whether to strike.
And she said there was clear evidence of higher mortality at the weekends.
"You just need to look at the facts - If you have a stroke at weekend mortality is 20% higher than if you have that stroke in the week, newborn deaths are 7% more likely, so this is why we need to find a way through on this and we continue to urge the BMA to work with us to resolve it."
Yet when asked if those statistics included any causal link between staffing levels and death rates, the spokeswoman replied: "The fact is that this happens at the weekend as opposed to in the week. It's what the statistics are and we know that clearly there are differing staffing levels when staff are on duty at weekends."
No.10 also suggested that the BMA was not being clear about the reasons for the strike.
"I think it's important that we are clear, that the BMA is clear and junior doctors are clear with the public and patients affected by today's strike what it is about," she said.
"We are clear that it is about delivering a fair deal for doctors while delivering 24 hour, seven day care across the NHS."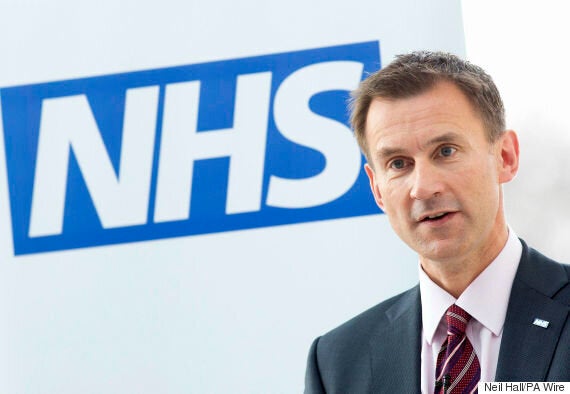 Jeremy Hunt, Health Secretary
Doctors have accused the Health Secretary of abusing the statistics on 11,000 'excess' weekend deaths, pointing out that there are lots of non-staffing reasons for higher rates, including the severity of strokes being higher at the weekend.
One study found a link to staffing on stroke deaths, but pointed to nursing rather than doctor rotas. On neonatal deaths, some doctors believe that at most there may be a link to a shortage of consultants on weekend duty, rather than junior doctors, though other factors come into play.
One research study this year found more generally: "There is as yet no clear evidence that 7-day services will reduce weekend deaths or can be achieved without increasing weekday deaths".
The Editor of the British Medical Journal last year accused Mr Hunt of misrepresenting a study to back his 7-day policy.
Dr Fiona Godlee complained because the report stated 'it's not possible to determine the extent to which these excess deaths may be preventable' and that i would be 'rash and misleading to assume they were'.
Former Health Secretary Stephen Dorrell said last weekend that he "was not using" the 11,000 deaths figure but that weekend staffing had to be increased.
Health Minister Ben Gummer said last year: "Significant independent clinical evidence shows increased mortality in our hospitals at weekends linked to reduced clinical cover."
Mr Corbyn condemned the Government for its "appalling" treatment of the medics and for "smearing" them in the media.
"Everybody in Britain recognises and is grateful for the hard work and long hours put in by junior doctors," he began in a Facebook post.
"Their treatment by this Government has been nothing short of appalling, leading to the strike action in our NHS today."