Derren Brown is back and this time he's making us kill each other.
Well, not quite but his latest show has caused quite a stir for getting poor unsuspecting people into such a state that they willingly go along with a plot to push an old man off a roof.
Brutal.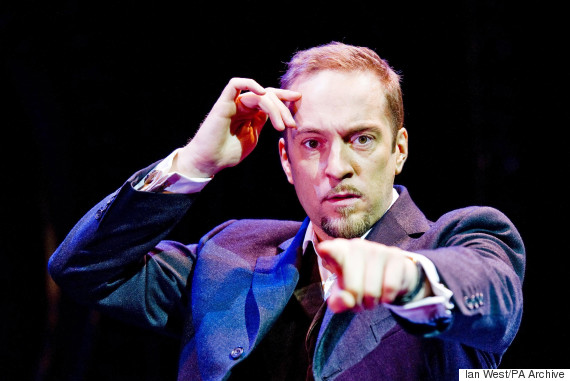 Derren Brown. Making you think stuff since 2000
Unsurprisingly, the reaction to 'Derren Brown: Pushed to the Edge' centres around whether or not the English mentalist is in fact some sort of demon sent to Earth to eventually destroy us all.
Let's be pleased that @DerrenBrown got into TV and not politics …because you know he'd be our supreme overlord by now #DerrenBrown

— Mike (@akaSchmike) January 12, 2016
Imagine being friends with Derren Brown - you'll kick him out of the group chat and next thing you know you've woken up naked in Morocco

— ade (@AdeOjigbo) January 12, 2016
It's fortunate that @DerrenBrown decided to use his powers for good (and good TV) rather than evil, or we'd all be fucked.

— Shannon (@unseen4) January 13, 2016
One day Derren Brown will rule us all. We won't know why. Because he is a mind controlling wizard man who must be obeyed. #DerrenBrown

— Amy Hetherington (@AmyEloiseH) January 13, 2016
But he does have friends, and they actually look quite happy to be there. Or is that what he's making them think...
Chris Robshaw and Ian McKellen in tonight. Just good to get the old gang back together. pic.twitter.com/1JWVEOxh2J

— Derren Brown (@DerrenBrown) January 12, 2016
Anyway, back to the important issues... at hand.
I wonder how many people don't wank anymore for fear they're somehow being spied on by Derren Brown.

— Summer Ray (@SummerRay) January 12, 2016
There was lots of speculation about his true identity.
Derren Brown is legit probs Jesus or st

— Beth (@n0toriousBETH) January 13, 2016
Many were thinking if what they were thinking was actually what they were thinking and not what Brown was thinking we should think.
I do wonder if by watching #DerrenBrown's shows he's actually doing some sort of mind control on us? @DerrenBrown

— Vikki Moore (@vikkimoo) January 13, 2016
@tom_alexander69 @DerrenBrown he's a bit like r lass! She gets me to do everything she wants too! #1dayiwillwearthetrousers

— neville bartos (@paul_statham11) January 13, 2016
It's frightening to think that at any point in your life you could be part of a @DerrenBrown special and not know. Maybe I'm in one now?

— Finn Dinneen (@FinnDinneen) January 13, 2016
What if @DerrenBrown is brainwashing me whilst I watch

— felicity (@felicity__kate) January 13, 2016
And then there was this terrifying scenario.
If Donald Trump had Derren Brown's brain the world would be a terrifying place #DerrenBrown

— Trish Taylor (@taylorednlp) January 13, 2016
But it's clear that in the event Brown did take over the world he wuld have a dedicated band of minions to do his evil bidding...
DEAR LORD this bloody man is bloody perfect. Another devilishly evil and compelling experiment @DerrenBrown #DerrenBrown

— Kelsey Hibberd. (@OnyxSakura) January 13, 2016
Actually obsessed with Derren Brown! #mindblown

— Tasha✌ (@MissTashaaxo) January 13, 2016
@DerrenBrown Amazing show tonight! Fab, edge of your seat watching! Gripping and thought provoking! You're a true genius! #WhateverItTakes

— Jamie Fairhurst (@JamieFJF) January 13, 2016
Derren Brown is such a babe

— rachelsmith (@hiiimrach) January 13, 2016
Like seriously @DerrenBrown would be top of my list of people to invite to dinner or be trapped on a desert island with or whatever

— frankie (@frankie_m94) January 13, 2016
Holy Shit @DerrenBrown phenomenal as always. Gonna ask again, can i b ur apprentice? Or at least your servant when you take over the world?

— frankie (@frankie_m94) January 13, 2016
I honestly adore Derren Brown

— Nicole (@nicoleeatsix) January 13, 2016