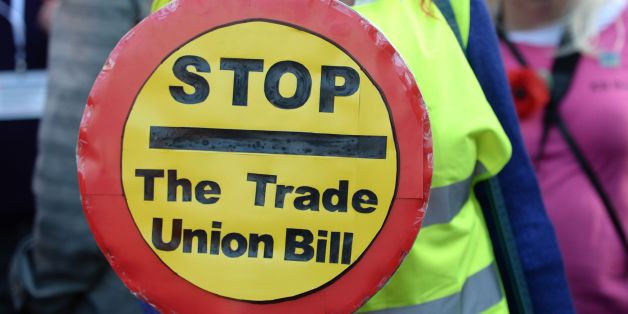 Anthony Devlin/PA Wire
Tory plans to slash Labour's funding from trade unions are facing a direct challenge from the House of Lords, HuffPost UK can reveal.
In a fresh clash with the Government, Labour and Lib Dem peers - who have a majority in the Lords - are set to back a new move to fight proposals in the Trade Union Bill that could see Labour lose £6m in income.
Both Opposition parties are furious at the way the bill tears up the long-held cross-party consensus on party funding and will back the creation of a new Lords Select Committee which could recommend a new law banning ALL big donations, including Tory ones from the City.
The fresh challenge to the Government's authority comes as the Lords today discusses a report by Lord Strathclyde to curb their powers in the wake of George Osborne's tax credits cuts defeat last year.
A motion laid in Parliament by Labour on Tuesday night, which is expected to be voted through next week, calls for the creation of a new select committee to separately consider those clauses of the Trade Union Bill that relate to party funding and donations.
The motion, by Shadow Leader of the Lords Baroness Smith, states that the new committee - which would report by February 29 - would consider "the necessity of urgent new legislation to balance" the Tory plans with "other recommendations made" by the Committee on Standards in Public Life to end 'big donor culture'.
Among the proposals in the 2011 report on funding was a £10,000 cap on all donations - a move that the Conservatives fiercely resisted as it would hit their income from private business and individuals - as well as tighter caps on spending.
The new select committee - which would run parallel to the bill itself and feed back into later stages - may also suggest a 'delete clause' amendment to the political levy clauses in the Trade Union bill.
Labour argues that because the Tory manifesto stated 'we will continue to seek agreement on a comprehensive package of party funding reform', it can fend off any claims of 'foul play' by the Government.
But Tory sources stressed the party funding pledge was separate to an explicit manifesto commitment to 'legislate to ensure trade unions use a transparent opt-in process for subscriptions to political parties'.
A spokesperson for the Department for Business, Innovation and Skills told HuffPostUK: "From the start of this government, we stated that we would legislate to make sure union members choose if they want to pay into a political fund.
"These clauses of the Trade Union Bill are about transparency and choice: union members should make an active choice about whether or not to contribute to a union's political fund. This Bill, including clauses 10 and 11, will receive full scrutiny from Parliament in the usual way."
The select committee proposed by Labour would separate out the party funding issues from other equally controversial measures to impose a higher threshold on unions for strike action.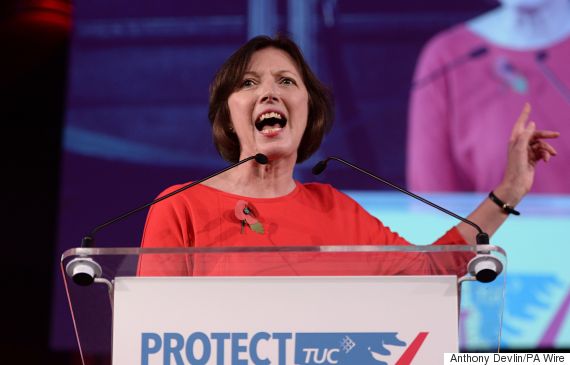 TUC General Secretary Frances O'Grady at a lobby of Parliament on the Trade Union Bill
No10 has insisted that the bill simply ensures that individual trade unionists have to opt in, rather than opt out of the political levy, which results in millions of donations to Labour.
But both Labour and the Lib Dems believe the bill has long-term implications for the democratic process which need special Parliamentary scrutiny.
If the new committee is created next week, a further motion would be needed to appoint the committee's make-up and later its powers.
The Lib Dems have been working closely with Labour on the new move. Lord Tyler suggested the select committee idea at second reading of the Trade Union bill but agreed to hold fire this week until a cross-party approach was agreed.
The Lib Dems would perhaps have most to gain from a 'level playing field' amendment that cut spending caps and capped donations from all donors. However, few politicians believe the public has the appetite for more state funding of political parties, as suggested by the Committee on Standards in Public Life.
Although Labour is very keen to maintain its union cash flow, it is possible that given Labour's increased party membership since Jeremy Corbyn's election, it could generate more individual small-scale donations that the Conservatives if the 'nuclear option' of a new amendment for donation caps is backed by the Lords.