Joshua Browder, undertaking an Economics and Computer Science degree at Stanford University, came up with the idea after he created a website 'DoNotPay' to help people appeal unfair parking tickets.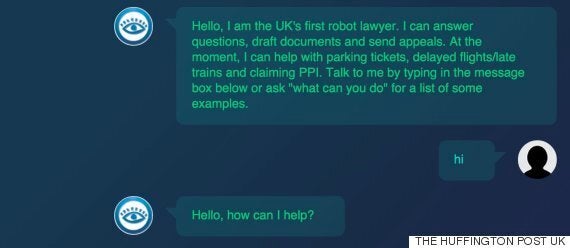 The British teenager, who left London in September to begin his studies in the U.S., received widespread media coverage for the parking appeals website.
Speaking to Mashable about the inspiration behind his robot lawyer, he said:
"...users began sending me emails ranging from questions about how to use the site ('I got a parking ticket — which appeal should I choose?') to general questions about consumer law ('What happens if I can't pay my court fine?').
"Although I tried to respond to every single one, as the site gained popularity, it became harder to respond in detail to thousands of these emails a month."
He added: "To solve this problem, I realised that the best way to help people would be to create a computer program that could talk to users, generate appeals and answer questions like a human."
We tried the website, which works in similar manner to how insurance websites gives you quotes.
By asking you a series of questions, the bot puts together a letter you can use as part of your appeal.
However, the bot does assume that you have legal grounds for your case and handles parking tickets, payment protection insurance claims as well as delayed train and flight problems.
"I am ultimately looking to give it as much functionality as possible in the spirit of trying to replace the large group of exploitative lawyers," he told Mashable.
According to Browder, the algorithm compares text and keywords to help the bot form its own phrases. In the event of the site being unable to help, the teenager gets a direct notification.
Browder then works to improve the bot to ensure it can handle such requests in the future.
Related