Lord Janner's child sex abuse case has been dropped in light of the 87-year-old's death, it was announced at the Old Bailey.
Janner was accused of abusing children, facing 22 counts of sex offences that allegedly in the 1960s, 70s and 80s.
He was due to a face a "trial of the facts", where a jury would decide whether the allegations were true, without holding him criminally responsible because his dementia left him unfit to stand trial.
But he died in December, leaving the Crown Prosecution Service unsure of the next step to take.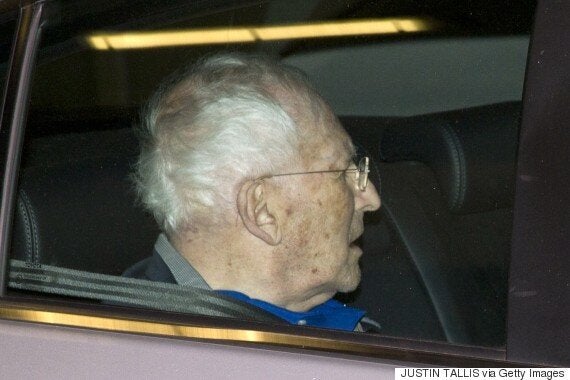 Lord Janner being driven away after a court appearance in August 2015
Prosecutor Richard Whittam QC said the law did not allow for any proceedings against a dead person, even a trial of the facts.
Lawyer and journalist David Allen Green said prosecutors had "grudgingly" decided they "cannot continue criminal proceedings against a dead person".
Trial judge Mr Justice Openshaw agreed: "There is nothing more to be said. That's the end of the proceedings, that the defendant is dead."
The allegations centre on claims that Janner, while he was an MP, befriended the manager of a children's care home to allow him access to children to carry out the alleged offences.
Leicestershire Police, which investigated the claims, said its investigation into Janner and others was still live.
Representatives of Janner's alleged victims said they were "devastated" at the news and condemned the failure to prosecute Janner earlier.
Liz Dux, specialist abuse lawyer at Slater and Gordon, who represents eight alleged victims, said: "My clients are obviously devastated that they are no longer able to give their evidence in a criminal court.
"They understand the reasons why but that doesn't make up for the real travesty - that many gave their statements decades ago and have been denied justice through a failure to prosecute earlier when Janner was alive and well.
"They sincerely hope that the Goddard Inquiry will prioritise this matter, will allow them to give their evidence in person and will make findings of fact.
"It is vital that all the evidence that has painstakingly been gathered over the years is carefully considered by the independent inquiry and that findings of fact are made public."
Related