A man in his 20s plunged 80ft to his death from the roof garden of London's Coq D'Argent, in what is thought to have been the sixth fatal fall from the restaurant since 2007.
The 29-year-old is believed to have fallen from a viewing platform jutting out from the restaurant's terrace above Queen Victoria Street shortly after 4pm on Sunday.
He was pronounced dead at the scene by paramedics. Police said the man's death is not being treated as suspicious.
Diners and staff at the restaurant, on the 7th floor of No1 Poultry, were reported to have been unaware of the death until police arrived.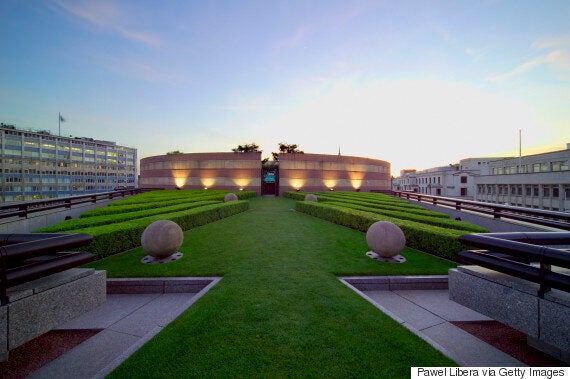 A 29-year-old man fell to his death from London's Coq D'Argent restaurant rooftop gardens on Sunday
One diner told the Evening Standard that a policeman approached the girl on reception asking to speak with the manager. The officer, the diner said, then went outside with the manager where he was informed of the incident.
The manager then asked one of his bar staff to close the roof gardens, the diner told the newspaper, adding that there was "no fuss" and that other diners would not have been aware of the death.
The Coq D'Argent, once owned by Sir Terence Conran, is popular with City workers but its rooftops are also a notorious suicide spot.
In 2013, owners D&D London installed 6ft-high barriers and introduced security guards who questioned anyone alone on the rooftop bar.
The restaurant was cleared of any blame at his inquest. Coroner Dr Roy Palmer said it had done all it could to make it "difficult, if not impossible, for people to leave the premises other than by the lift or the stairs."
Between 2007 and 2012 four other people have committed suicide from the restaurant's rooftop.
In 2007 Richard Ford, 33, jumped from the roof terrace and in 2009 Anjool Malde, 24, jumped to his death after he lost his job at Deutsche Bank.
The restaurant has not commented publicly on the latest death.
Useful websites and helplines: