If Alejandro G Inarritu is feeling overwhelmed by the possibility of achieving the almost impossible feat of taking home two Best Director Oscars home in a row, he's doing a good job of hiding it.
"My father always warned me about success," he tells HuffPostUK. "He said it's like taking medicine, it's important to gargle and enjoy it, but it's equally important to spit. You have to remember both parts."
The time for gargling is surely upon us, with the Mexican director's film 'The Revanant' the frontrunner for this year's Awards, with Golden Globes already in the bag, and 12 Oscar nominations to boot. For Inarritu, last year's winner with 'Birdman', it's basically a chance to exhale after what could conservatively be described as a gruelling production in the wilderness of Canada and Argentina, as he battled with the elements to bring the 19th century real life story of huntsman Hugh Glass to the screen.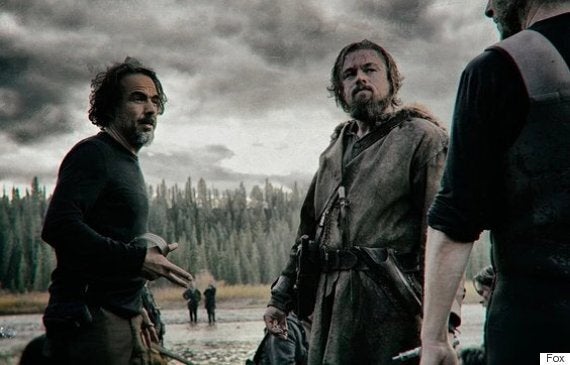 Alejandro Inarritu has steered Leonardo DiCaprio to one of his greatest ever performances in 'The Revenant'
"It would be a lie if I told you that there weren't many moments in the making of this film, that challenged me so deeply, logistically, creatively, viscerally, emotionally, that you find yourself with a lot of questions and very few answers," he says frankly, "and you have to surrender to that and let the process get you to someplace, a place you could never have planned.
"You have to remind yourself that there is no failure in expression. In life, there are two approaches, love or fear, they are the only ruling emotions in the world, and you have to choose one.
He shrugs. "But those are the films that I like, not those pre-designed. Not a product designed by committee, but a completely other animal.
"Always there were these questions, is there a way out? Yes, every day. We could have failed absolutely, miserably, because we took every risk, but here we are."
We are indeed, with a bleak but beautiful tale, and a leading man with, quite possibly, his best ever chance of finally taking home his long-expected Academy Award. Will this be remembered as the film that finally brought Mr DiCaprio of age?
"I think he has been a man all his life," says his director.
"It was a great opportunity for him to explore in another mode from where he has gone before, with very little dialogue, with his body language and his eyes to be the main storytellers. He had to deal with long takes, wide exposure, precise choreography, a whole new craft."
Inarritu doesn't exaggerate. There is very little dialogue in the 150-minute epic, as DiCaprio's character struggles back from the dead – physically, spiritually – after he has been betrayed by his fellow hunters and left for dead. It's a role a million miles away from the lude-fuelled dialogue of 'Wolf of Wall Street'. So how did his director knew Leo had it in him to roar so quietly? Three reasons, apparently.
"His body of work, his refusal to sell out to franchises or cheesy films, speaks highly of his ethic to me," starts Inarritu. "Then talking to him, realising he was prepared to go on the same journey as me, or even further if needs be.
"Finally, I need to find an emotional baggage, an interior life which, the only way to find it, as with everybody, is to look into his eyes.
"An actor can have information, skills, craft, but there is something about someone's eyes that tell you the rest. It's hard to articulate, but you know."
Despite its very singular setting of the wild frontier, Inarritu is clear there is a timeless and universal truth to the story he's brought to screen, a tale of tribalism, misunderstanding between communities, blindness to sameness, differences representing threat.
"Unfortunately, there are those who want to keep that going on. How we relate to ourselves, to others and to nature, everything is for greed and for profit, and profit is god, and once you believe that you can justify anything," he reflects.
"Who am I to give a moral message? I don't consider myself any better than anybody else, we are all dark and light, very complex beings, I'm just saying that films can be useful to bring some questions to be considered, although I don't have the answer. At best, I can hopefully encourage a bit more reflection, and then if we go away and think, hopefully we can all shape a little better understanding of what we are."
'The Revenant' is in UK cinemas now. Watch the trailer below:
Popular in the Community