A jilted husband, who claimed he was "returning" items to his ex-wife when he dumped them in her front garden early in the morning, has been fined several thousand pounds for fly-tipping.
Michael Hutchinson, 72, of Skegness, Lincolnshire, dumped bedding, furniture and other items with the message "Some things you didn't steal" outside the home of his former partner, in the village of Martin, on two occasions in June 2014. The pensioner had also defaced them with green paint and solvent.
His ex recognised the furnishings from the home she had previously shared with her husband and contacted North Kesteven District Council, which prosecuted Hutchinson for disposing of waste without a licence.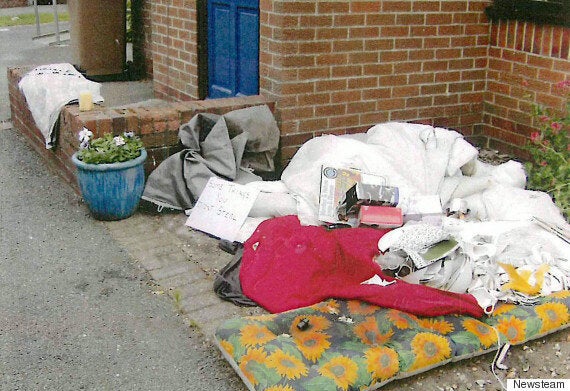 Michael Hutchinson, 72, was fined over £2,300 for dumping these furnishings outside his ex-wife's home
Following an 18-month investigation, Hutchinson was found guilty of two counts of fly-tipping at Lincoln Magistrates' Court on January 15.
He initially pleaded not guilty, stating that he was simply "returning" the items to his ex-wife, but changed his plea before the matter went to trial.
JP's had rejected Hutchinson's claim because he had delivered the items during the early hours of the morning and in a damaged state. He had also previously refused to respond to council officers' questions under caution, and had provided false addresses on several occasions.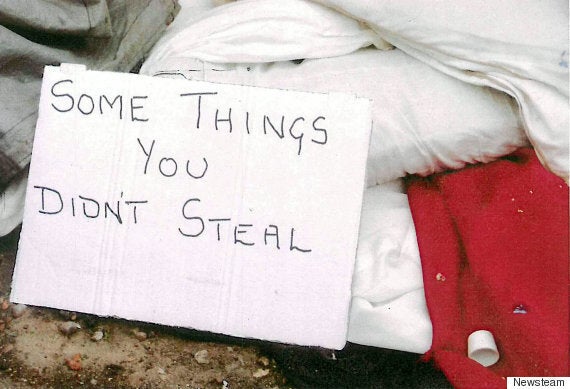 Hutchinson left a sign on the furnishings that read "some things you didn't steal"
Hutchinson was ordered to pay more than £2,300, which consisted of a £625 fine, costs of £1,229.88, a victim surcharge of £63 and £400 compensation to his former partner.
Councillor Richard Wright said: "The district council has never tolerated fly-tipping, and although Hutchinson considered himself to be returning the items, he was in fact committing an offence.
"We take this very seriously, and will prosecute anyone who is caught doing so."