Studying for a degree is hard enough when you're able to dedicate all your time to your books, never mind balancing your studies with the demands of being a parent.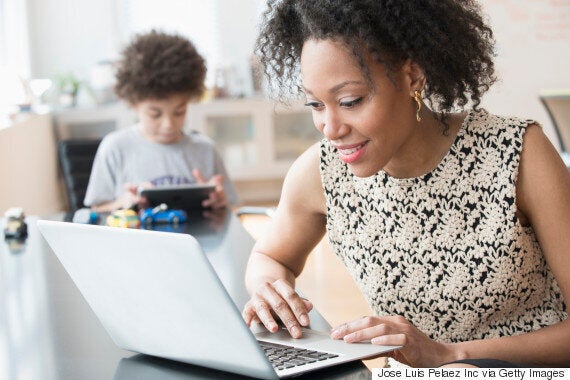 Yet every year, thousands of parents in the UK graduate from university with a new qualification, an immense sense of achievement, and a whole new world of opportunities.
There's no getting away from the hard work, dedication and organisation required to successfully balance children and university – but with the right support tools, a realistic learning plan and a few sanity-saving strategies, the roles of student and parent needn't be mutually exclusive.
When you're balancing multiple responsibilities and sacrificing precious time with your children to study, you need to know it's a course that's going to be worth your while.
"I think choosing an interesting course – something you feel passionately about – is the most important thing," says mother of two Kate Sutton, who followed her dream of studying English & American Literature at 36, balancing her studies with work and the school run.
For Kathryn Jamieson Sinclair, who had two sons while juggling a part-time Law degree and full-time work as a nurse, it was about the end goal: "If you want the prize enough – in my case, qualifying as a solicitor so I could give my kids a good life – you can achieve anything."
Choosing a flexible course, such as a part-time distance learning course, is a sensible option if you're concerned about fitting your studies around family and work commitments. These can be done from home - or even on the go. And contrary to popular belief, distance learning degrees are 'proper' degrees and carry the same weight as those gained at traditional universities.
Take advantage of university support…
Most universities have a crèche or nursery on or near the campus for students and staff with children. But demand is usually high, so book your place as early as possible. Parents' societies run through the student union, can also be a great source of support. These enable you to get together with other parents – ideal for finding people to socialise or study with who will understand your schedule and provide a support network.
University staff can also be a great support, as Jamieson Sinclair found when she was studying at the library with a newborn baby tucked under her shirt:
"I would carry my son Joel to the university library in a baby carrier, where I wore a huge shirt so I could latch him on without anyone knowing and then work away in the booth in the library without disturbing anyone. One of the librarians was amazing when he realised – and if I let him know he would save me a little side room to work in. He did this again when my second son arrived and I had one baby in a carrier and the other in a buggy!"
If you're struggling with your studies, tutors can provide help with more than just assignment feedback. And that one-on-one support isn't limited to bricks-and-mortar universities – it applies to distance learning, too. The tutors at The Open University are renowned for their levels of one-to-one support, by phone and email as well as face-to-face.
Build a support network of friends and family
"You can't be too proud," says Jamieson Sinclair. "Ask people for help! The chances are they want to help you but they don't want to force that help on you for fear of offending you. My sister was a life-line, helping me out with childcare – and my grandma used to let herself into my house during the day and clean my kitchen and put washing on without telling me and then just go home like the elves had been in."
It might sound the last thing you can fit into your already hectic schedule but exercise is great for clearing and re-energising the mind – so it could help you to work more efficiently, saving time in the long run.
"I found studying made me very brain tired, but not body tired at all which isn't a very pleasant way of being – so I think maintaining some kind of physical activity is really important if at all possible," says Laura Davies, who did an undergraduate degree, MA and PhD while raising her daughter singlehandedly.
"I cycled a lot when I was an undergraduate, and then as a postgraduate student added in running as well. I've realised that I really need this to keep me sane, and it helps me to sleep better too."
Stop trying to be all things to all people
"A great time management tip is to just cut yourself a massive amount of slack on the domestic front," says Davies. "I tried for a long time to maintain pretty high domestic standards (I once baked a cake in the middle of the night for the school fair because I didn't want to take a shop bought one!), but I no longer worry so much about this. Turns out a messy house has little impact on my wellbeing, but an hour spent outdoors has a massive one so I do that instead."
Jamieson Sinclair agrees: "Don't be an apologist. So what if the laundry isn't done? So what if there are kids' toys all over the floor!"
Remember why you're doing it
"In challenging times, I found it helpful to look at the bigger picture, remember why I was doing it and remind myself it wasn't forever," says Davies.
"I feel very fortunate that all those years of studying have led me into a job I love and although I spent most of my daughter's childhood being very short of money, I'm now in a job that pays well and is pretty secure."
"Try and be as organised as possible and don't rely on being able to do work at the last minute," Davies adds. "A last minute essay writing session with a poorly child sat on my lap taught me that one!"
Of course, being organised and managing your time is easier said then done when you're spinning multiple plates. Try this six-step plan to keep on top of your studies without losing sight of the other important things in your life:
Six-step study plan

1. Work on tasks at the best time of day for you. For instance, if you know you're a morning person, set your alarm early and work on your most challenging assignments then.

2. Track your time. If you know you're guilty of procrastination and getting caught up in distractions (who isn't?), try auditing your work for a week, writing down exactly what you did for each hour. If checking emails and browsing Facebook is appearing too frequently, allocate a set time each day for those activities, such as first thing in the morning and after lunch – and stick to it!

3. Timetable in 'me time' and activities with the family. Time spent with your family and doing the things you love, whether it's going for a run or going for drinks with a friend, are ultimately what will keep you sane. And that is what will keep you focused and mentally alert – and prevent those inevitable meltdown moments. Don't just say you'll do these things - put them in your weekly planner alongside all your study commitments.

4. Be a project manager. Long-term projects can be hard to keep a handle on so a timeline or schedule is essential. Write down every deadline involved and then factor in the tasks you need to do to meet those deadlines. For instance, if you have a date in place for a presentation, plot out the research, preparation and rehearsal time in date order.

5. Be realistic. A common mistake for students is to underestimate how long a task will take. If you find that your first couple of assignments have taken almost twice as long as you expected – then double the time for your next assignment.

6. Give yourself a break. This is meant both literally and metaphorically. Regular breaks are the key to avoiding burn-out – and you deserve them! What you're doing is an amazing feat so cut yourself some slack and don't be hard on yourself when you don't stick to the schedule or your assignment doesn't go as well as you'd hoped.