Black smoke billowed into the skies in Paris on Tuesday as taxi drivers brought roads to a standstill during rush hour by setting tyres on fire and setting off flares, in a protest over the threat of online competitors such as Uber.
Fights broke out on the ring road of the French capital as masked men and women reportedly stopped cars and other vehicles, and dozens of riot of police and firefighters intervened. Some 300 drivers were said to be involved and 19 arrests were made.
Police charged protesters with batons and used tear gas to try and clear the scene, as hundreds watched on.
Today has been dubbed "Black Tuesday" in France as the country is also grappling with simultaneous strikes by air traffic controllers, civil servants, hospital workers and teachers.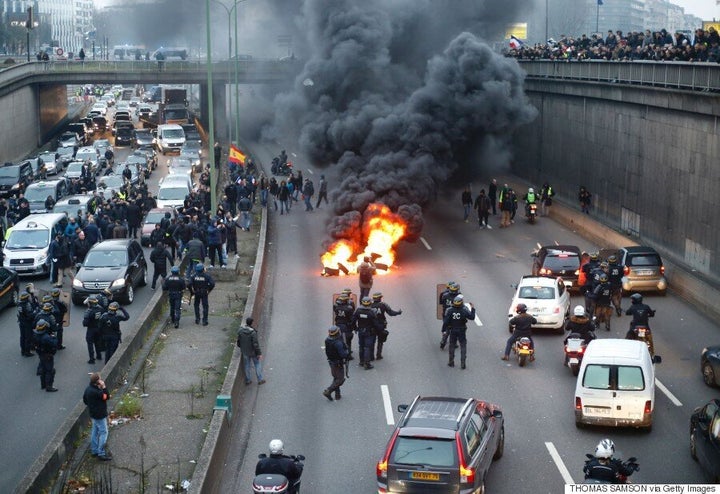 Paris taxi drivers brought roads to a standstill and set tyres on fire in a protest over the threat of online competitors like Uber
Taxi drivers told local media they were protesting against "worsening conditions in our industry".
Standard taxi drivers are angry at the threat being posed by online competition, being led by Uber.
"Today our survival is at stake, we are fed up of meetings and negotiations," said Ibrahima Sylla, spokesman of the Taxis de France collective was quoted as saying by AFP.
Police said around 1,200 taxi drivers were protesting in various parts of Paris, while their colleagues also disrupted traffic in Toulouse, northern Lille and southern Marseille.
Police warned drivers to stay off the roads, as "go slows" by taxis were also used to block major thoroughfares, the Evening Standard reported.
The newspaper said a taxi driver was seriously injured at Orly airport, south of the capital, as a shuttle bus tried to force its way through a blockade. In response, taxi drivers were said to have thrown stones at the bus's windows.
In Marseille, striking drivers caused traffic jams around the city and its Marignane airport.
Rachid Boudjema president of the taxi drivers union in Marseille has been reported as calling industry competitors "American cowboys" who "want to destroy our system, the system we are all attached to".
Uber said the goal of the protest was "to put pressure on the government to ... limit competition" and warned that limiting app-based car services would raise costs, put drivers out of work and send customers back to the era "before apps and smartphones."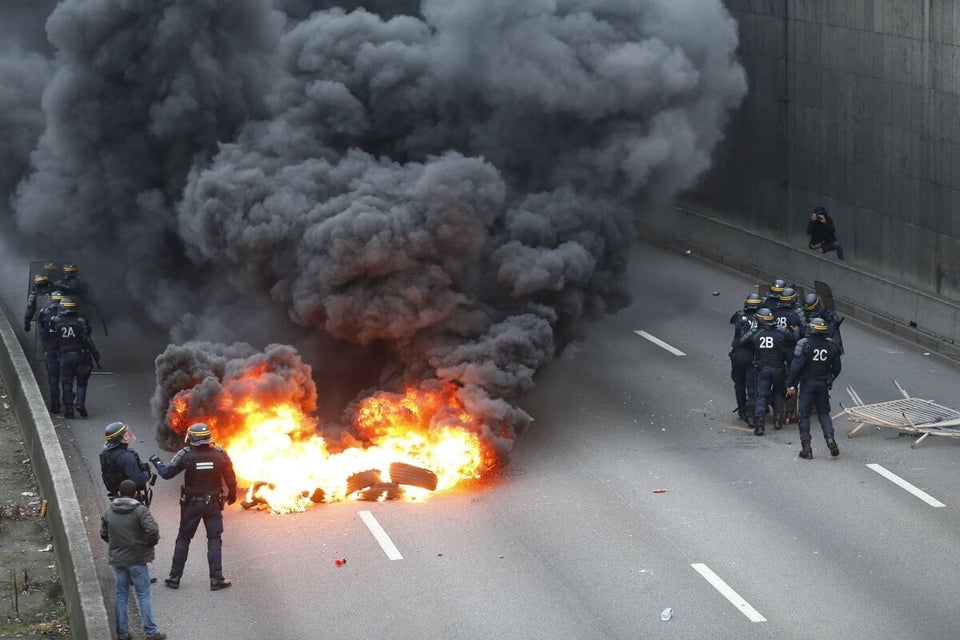 Paris anti-Uber protest