We're a proud rainbow nation but you wouldn't quite know it judging by the beauty pages of weekly and monthly magazines.
As part of our ongoing commitment to featuring diverse beauty across HuffPost's Style pages, we asked some of our favourite Asian beauty bloggers for their top tips.
Anita Bhagwandas, senior beauty editor at Marie Claire, blogs at The Guardian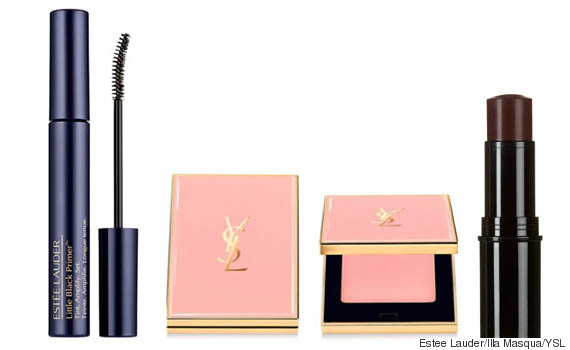 Illamasqua Gel Scultp in Silhouette and charm, £22
That whole heavily contoured look is so done, and not to mention hugely ageing. That's why these genius new sticks from Illamasqua are so great. Silhouette, the bronzing shade acts as a translucent contour-enhancer that adds just the right amount of pigment on areas like the sides of the face, chin and underneath the cheekbones.
While a little hit of Charm – the corally, orange blush stick - is so flattering applied to the cheeks, and much more modern than a pink or plum shade. They're the most natural looking textures I've used, they just look like real skin and I wouldn't be without them now.
SEE ALSO:

Coloured Freckles Are The Boldest New Beauty Trend
Estee Lauder Little Black primer, £20
I'll be the first to admit that I was really dubious about how life-changing a lash primer could be. But this little wand of glory has proven me so wrong.
In fact whenever I wear it I get oodles of admiring comments on how long my lashes look. So for anyone with darker lashes looking to add drama and depth to the eyes this is a real gem of a product. Just brush it on, and use your regular mascara on top.
YSL Touche Eclat Blur Perfector, £31.50
I'm waging a personal war against pressed powder. Firstly, super-matte skin is aging because healthy skin reflects light and glows. Secondly, when said pressed powder mixes with oil on the skin, it combines to form a weird foundation-like substance that's gross and just looks cakey.
But I get that you don't want your entire face to look like an oil-slick so that's where this mattifying balm gets involved. It acts like a powder, quelling areas of shine, but because it's invisible it doesn't cake. It minimizes pores comes in a beautiful pink compact. Basically, you HAVE to try it.
Nina Patel writes at The Asian Fashion Journal and is based in London.
Bobbi Brown's mahogany eye shadow, £17.50
Like most Indian girls taming my brows is a must. I get my eyebrows threaded regularly and fill them in every day with Bobbi Brown's mahogany eyeshadow and brow brush. Filling them in defines and enhances the shape.
Nars Radiant Creamy concealer, £22.50
This is my favourite. It's a heavy concealer that dries to a light finish. Nars have a good range of shades for Asian skin and the concealer is great for brightening up dark under eye circles and discoloration which are a common problem for Indian skin.
M.A.C Barbecue, £17
My last must have is a bright lipstick. It instantly polishes off any look. My fave at the mo is Barbeque from M.A.C's Toledo range. It's a matt orange-red that really pops.
Samyukta Sharma blogs at I Simply Love Makeup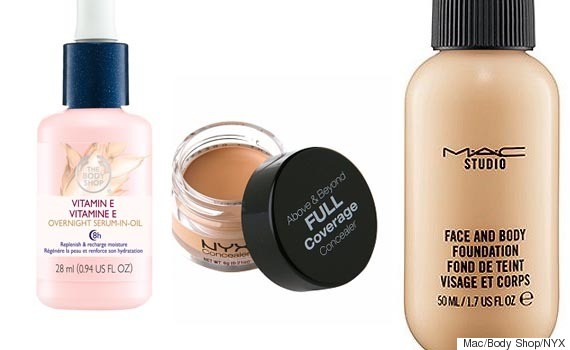 The Body Shop Vitamin E Overnight Serum Oil, £15
A good face of makeup for me should look like I am not wearing any. For this the base makeup needs to be flawless. I have dry skin and I start with a well moisturised face. For this I recommend The Body Shop Vitamin E Overnight Serum Oil. Its a great night time serum for all skin types and helps you wake up to smooth and supple skin.
MAC Face & Body Foundation, £22
Next I prefer to apply a gloriously natural finish foundation and my go to for this is the MAC Face & Body foundation. It gives a beautiful naturally dewy finish and is perfect for someone with dry to normal skin. It gives light coverage and looks like second skin.
NYX Above and Beyond Full Coverage Concealer, £5.50
Last but not the least is getting my concealer right and for this I trust only the NYX Above and Beyond Full Coverage Concealer. As the name suggests its a full coverage concealer, stays for the whole day and does not crease.