People looking to lose weight should eat more fruit and veg, scientists have suggested.
Fruit and vegetables that have high levels of flavonoids - such as apples, pears, blueberries and radishes - could prevent weight gain.
Flavanoids are plant compounds which are thought to have antioxidant and anti-inflammatory health benefits.
Scientists believe that consuming just 80g of fruit or veg per day could help to maintain a healthy weight and could even lead to "moderate" weight loss.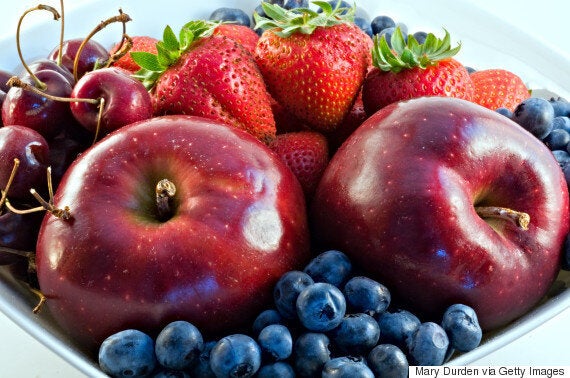 The study focused on three groups of people - women with an average age of 36, women aged 48, and men with an average age of 47.
They found that those who ate a few portions of flavonoid-rich fruits and vegetables every week maintained a healthy weight, and even lost a little.
Foods rich in flavanoids

Apples

Oranges

Blueberries

Bananas

Grapefruit

Strawberries

Lemons

Peaches

Cherries

Pears

Watermelon

Plums

Cranberries

Raspberries

Onions

Lettuce

Tomatoes

Almonds

Parsley

Bell Peppers

Celery

Cabbage

Chili peppers

Sweet potatoes

Quinoa
"Most adults gain weight as they age and even small increases in weight can have a substantial impact on risk of high blood pressure, developing heart disease, cancer or diabetes - so strategies to help individuals maintain a healthy weight in middle-age are needed.
"We found that an increased consumption of most flavonoids was associated with weight maintenance, and even a modest weight loss. The results were found to be consistent across men and women, and different ages."
"However losing even small amounts of weight, or preventing weight gain, can improve health and these modest effects were seen with a small, readily achievable increase in intake of many of these fruits.
"Just a single portion of some of these fruits per day would have an important impact on health at a population level."
He added that the most effective foods for maintaining a healthy weight were those containing anthocyanins. These include blueberries, strawberries, cherries, blackberries, grapes, radishes and blackcurrants.
"We hope that the results will help refine previous dietary recommendations and provide guidance on which specific fruits and vegetables to choose for preventing obesity and its potential consequences," said Professor Cassidy.
"Losing or preventing even small amounts of weight can reduce the risk of diabetes, cancer, hypertension and cardiovascular disease."