Two major high street fashion shops have admitted finding Syrian refugee children working in factories supplying their garments.
H&M and Next revealed to the Business and Human Rights Resource Centre (BHRRC) that child labour was discovered in Turkish factories they used, but that they stopped working with them immediately after discovering the news.
However there are fears it could be far more widespread after other British companies have refused to comment.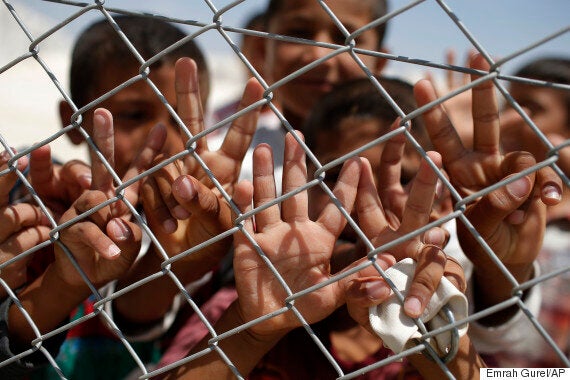 Syrian refugee children at the Turkey-Syria border
The BHRRC surveyed 28 major high street brands last month about the exploitation of Syrian children.
H&M and Next revealed they had identified child labour over the course of 2015, while Primark and C&A said they had identified adult Syrian refugee workers.
Arcadia Group (which owns Topshop, Dorothy Perkins and Burtons) along with Adidas, Burberry, Nike and Puma all stated that no undocumented Syrian refugees were found.
All other brands that responded (including M&S, ASOS, Debenhams and Superdry) did not answer the question about Syrian workers, while ten companies (including GAP, New Look and River Island) have yet to respond at all.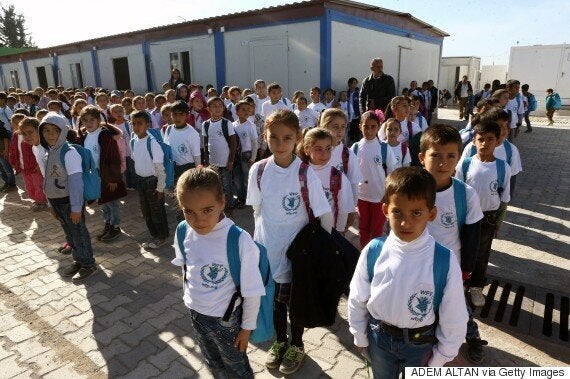 Syrian children attend school at a Turkish refugee camp
A spokesperson for H&M told HuffPost UK Style: "H&M does not accept child labour in any condition. We have had a policy on child labour since 1997 based on the UN Convention on the Rights of the Child and ILO convention 138, and all H&M's suppliers have committed to follow our strict Code of Conduct.
"In the report issued by Business & Human Rights Resource Centre, we state that we identified one case of Syrian child labour in an embroidery factory in Turkey during 2015 and we terminated this business relationship immediately.
"We then informed our NGO partner to get their support on the remediation activities. The NGO created the action plan aligning with our policy by identifying the most suitable education option based on the need and aspiration.
"If H&M obtain any information that child labor occurs in any part of our supply chain, we directly take action and take all necessary measures.
"If a supplier, despite H&M's regularly audits, employs a migrant worker without work permit H&M terminates its business relationship. If a migrant worker has a work permit, we ensure that they receive the same entitlements as the local workers."
Phil Bloomer, executive director at BHRRC said: "H&M deserve praise for their openness, and their action to eliminate child labour in their supply chain in a responsible and caring fashion.
"No brands want child labour in their supply chain. What matters is that H&M have been vigorous in seeking out the problem, and tackling it effectively in a way that supports the child. We need other European clothing brands to show equal vigour in eliminating this curse."
A spokesperson for Next also told HuffPost UK Style that the brand has "invested strongly in its audit processes that successfully identified the issue," acting "swiftly and appropriately to deal with the problem and to support the vulnerable Syrian refugee workers involved."
Turkey is the world's third largest sourcing hub for apparel after China and Bangladesh - along with being the world's largest host of Syrian refugees.
Workers' rights group Ethical Trading Initiative (ETI) had previously emphasised that Syrian workers should not experience discrimination.
In collaboration with Fair Labour Association and Fair Wear Foundation, the group lobbied the Turkish government to bring in work permit legislation for Syrian workers. Children under 12 are banned from working, while those aged 13 to 14 are banned from all but light work.
Speaking to HuffPost UK Style, Martin Buttle, apparel and textiles expert at ETI said: "The civil war in Syria has presented exceptional circumstances for brands sourcing from Turkey. ETI member brands have taken action and collaborated around ethical standards, including engaging with their suppliers on issues such as child labour and lobbying the government on work permits.
"While it is clear that more still needs to be done, ETI is confident that our members are taking this seriously. Companies realise that refugees, particularly women, have a right to fair and equal treatment in the workplace and factories must remain free from child labour."
Related