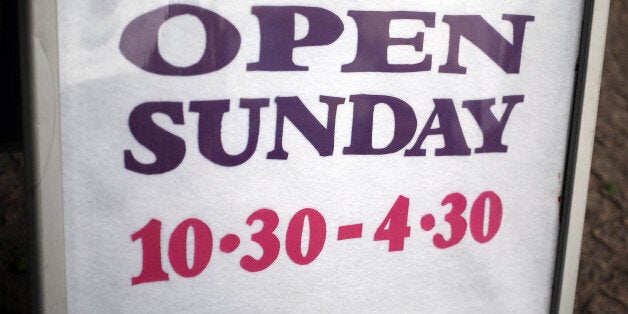 Controversial plans to allow shops to open for longer on Sundays are being "bounced" through Parliament, Labour claimed today.
Business Secretary Sajid Javid announced plans to allow local authorities to set the Sunday trading laws for high streets in their area will be part of the Enterprise Bill.
The proposal has proved controversial in the past, with a number of the Government's own backbenchers claiming it would stop Sunday being a special day for families.
The changes to the legislation were only announced today – with the Bill having already gone through numerous stages of the Parliamentary process.
Labour's Shadow Business Secretary Angela said the current law, which allows stores more than 3,000 sq ft in size to only open for six hours on Sundays, "works well".
She said: "[It] means that retailers can trade, customers can shop, and shopworkers can spend time with their families.
"This is at risk under the Tories who are set to make major changes to Sunday trading laws, a policy that wasn't in their manifesto.
"They tried it before but wisely abandoned their plans at the last minute in the face of widespread opposition, not least from their own backbenches.
"Choosing to include such sweeping changes at this stage in the Enterprise Bill's passage through Parliament, and at such short notice, shows that Ministers intend to bounce these measures through with minimum scrutiny."
The changes would allow local authorities to create special "zones" where stores could open longer on Sundays.
The hope is that such a measure would help drive footfall to struggling high streets and provide competition to online retailers.
David Burrowes, Conservative MP for Enfield Southgate, is against the changes, and writing on Politics Home this morning set out his objections.
He said: "We currently have a good British compromise – if you want to shop you can shop, but the difference on Sunday is respected.
"Some have accused me of imposing my view of Sundays on others. But I'm not suggesting shops shouldn't open on Sundays – I'm simply defending the choice of most shopworkers, who see this proposal as an additional pressure on them and their families, to enjoy an evening off once a week."
Mr Javid claims the measure is about giving local councils the power "to meet the needs of their local businesses and communities."
He said: "Extending Sunday trading hours has the potential to help businesses and high streets across the UK better compete as our shopping habits change.
"The rights of shop workers are key to making these changes work in everyone's interests.
"We are protecting those who do not wish to work Sundays, and those who do not want to work more than their normal Sunday working hours."
Popular in the Community