Terrifying dashcam footage has recorded the moment that a car with a baby inside flipped over on the M5 motorway.
Sparks fly as the skidding vehicle carrying the four-month-old rolls across the road in the clip, which was filmed by a lorry driver witnessing the incident.
Eventually the car comes to a stop, miraculously leaving the family inside without serious injury.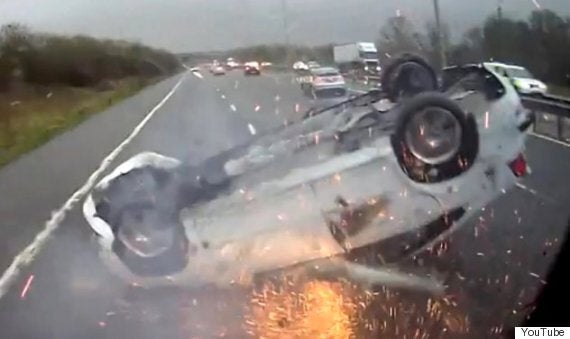 The white car slid in front of a Owens Group lorry, which pulled over on the hard shoulder after witnessing the crash.
The driver rushed to the scene to check on the family stuck inside the vehicle, where he found the baby unscathed and the parents unhurt.
He released the footage, which was captured in 2014, after the company began to trail the dashboard cameras for the first time.
The firm, based in Llanelli, Carmarthenshire, wanted to demonstrate the benefits of an onboard camera.
A health and safety manager, Mike Colborne, told the Telegraph: "Our driver helped as best he could and phoned the police, everybody was able to get out.
"We now have the forward-facing cameras in all our vehicles."