For years, Ben & Jerry's have dominated the ice cream world with their incredible flavour pairings and big, tasty chunks of chocolate, fudge and lord knows what else. (Hi Cookie Dough.)
Now, the ice cream brand have delighted thousands of vegans, those with dairy intolerance and strict clean eaters by announcing the launch of a new line of frozen desserts featuring no dairy ingredients whatsoever.
The ice cream will be created using almond milk and comes in four flavours:
:: Chunky Monkey - comprising banana dairy-free ice cream with fudge chunks and walnuts.
:: Chocolate Fudge Brownie - containing non-dairy frozen dessert with fudge brownies.
:: Coffee Caramel Fudge - containing coffee flavoured dairy-free ice cream with fudge chunks and a caramel swirl.
:: P.B & Cookies - containing vanilla non-dairy ice cream with chocolate sandwich cookies and a crunchy peanut butter swirl.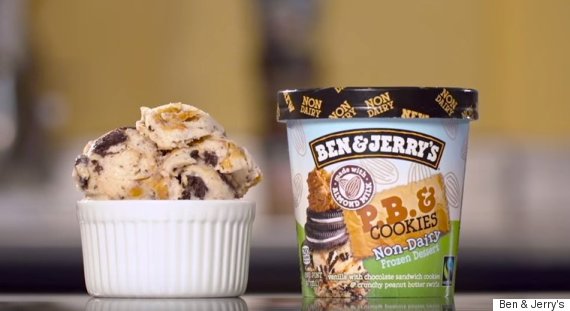 Unsurprisingly, a lot of people are thrilled by the announcement.
Ben & Jerry's came out with a vegan ice cream line 😱😱 how frigen cool is that

— Cass (@cassidybissitt) February 3, 2016
Thank the gods for ben & jerry's for making a vegan line of ice cream. Just in time for when i can't have their normal one😭🤗

— Ally (@ally_alligator6) February 4, 2016
My prayers have been answered. Thank you Jesus, for Ben & Jerry's vegan ice-cream line. Can't wait to try it! https://t.co/PpfALP3HxQ

— جولي † (@JulieJakji) February 3, 2016
#nondairy #vegan Ben & Jerry's? Forget the chocolates on Valentine's Day, I'll be in line for this. @KalelKitten https://t.co/gPeD64Pvnl

— Elmwend (@Elmwend) February 3, 2016
@CoryBooker I hope you're sitting down....Ben&Jerry's unveiled a vegan line with 4 flavors. Boo-yah

— Sheehy (@_Sheehy21) February 3, 2016
The company said it decided to develop the new line after being bombarded with requests to make dairy-free ice cream.
It has teamed up with Vegan Action - a grassroots organisation educating people about the benefits of a vegan lifestyle - to certify that their non-dairy ice cream doesn't include animal products of any kind including eggs, dairy or honey.
The site reads: "We admire you for your commitment and we hope you love the magnificent vegan chunks and swirls we've loaded into these bad boys."
SEE ALSO:

When You Openly Mock Veganism You Support Animal Abuse

5 Beauty Brands Vegans Need to Know About