Scores of people are feared dead after an earthquake hit Taiwan on Saturday. The 6.4-magnitude quake toppled a 17-storey building in the south of the island, leaving at least 12 dead with more fatalities expected. A 10-month-old baby is reportedly among the deceased.
Pictures emerging from the disaster show rescuers pulling survivors out from the rubble. In Tainan, a city of two million people, hundreds escaped a crumpled tower block but more are likely trapped under the concrete.
According to the US Geographical survey, the quake hit at around 4am local time at a depth of 6.2 miles. Five large aftershocks followed. The centre of the quake was located 22 miles southeast of Yujing.
"I was watching TV and after a sudden burst of shaking, I heard a boom," a 71-year-old man who lives near the pancaked structures told Reuters. "I opened my metal door and saw the building opposite fall down."
The tremor hit as people were preparing to celebrate Chinese New Year.
Emergency services and the army were drafted in to help rescue efforts in Tainan. Some buildings remain standing but leaning at unsafe angles. President Ma Ying-jeou told reporters authorities were assessing the tragedy. "The disaster situation is not very clear yet," he said. "We will do our utmost to rescue and secure survivors." The president is expected at the disaster site later on Saturday.
Earthquakes often strike Taiwan, which sits near the meeting of two tectonic plates. A 7.6 magnitude quake hit the island in 1999, killing more than 2,000 people.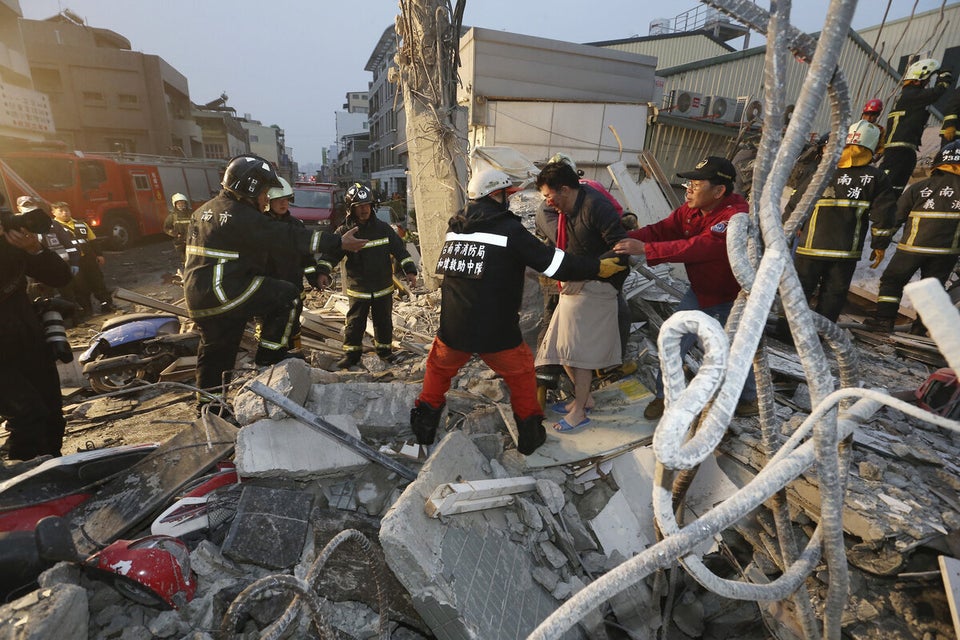 Taiwan Earthquake