A badger became an unlikely archaeologist when it accidentally dug up a Bronze Age cremation site near Stonehenge.
Objects dating from 2,200 to 2,000 BC were uncovered by the animal, including a bronze saw, a copper chisel, an archer's wrist guard and cremated human remains.
Experts said that the owner of the artefacts was most likely an archer.
Sherd showing badger claw marks
The badger decided to make its home in a convenient mound, inadvertently unearthing the objects, the Wiltshire and Swindon History Centre (WSHC) said.
Richard Osgood, from the MOD's Defence Infrastructure Organisation, said it was an "exciting" and "utterly unexpected" find.
Badger setts are not uncommon at historical sites. Osgood said that, while the discovery of the items is welcome, the burrowing animals can be an archaeological risk.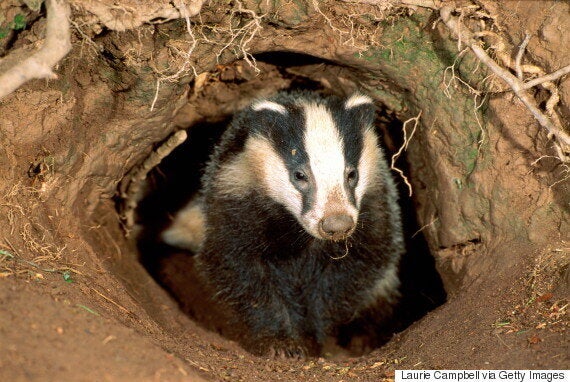 A badger became an unlikely archaeologist when it stumbled upon a Bronze Age burial site
He told the BBC: "There are badger setts in quite a few scheduled monuments - the actions of burrowing animals is one of the biggest risks to archaeology in Britain - but to bring out items of this quality from one hole is unusual.
"We would never have known these objects were in there, so there's a small part of me that is quite pleased the badger did this... but it probably would have been better that these things had stayed within the monument where they'd resided for 4,000 years."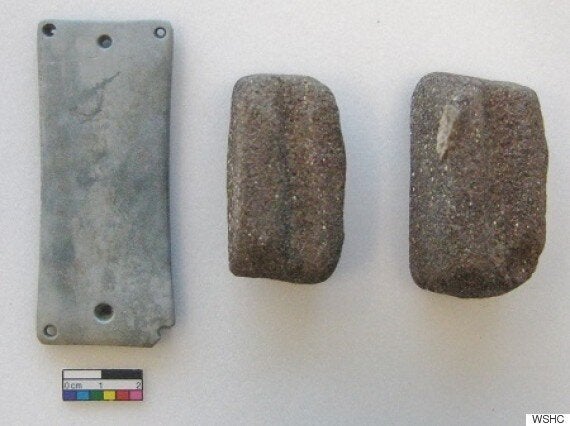 Wrist guard and shaft straighteners
The WHSC said in a blog post: "Luckily the badger has not caused too much damage to the objects and evidence of badger activity is only visible in the surface of some fragments of the ceramic sherds.
"It is probable that the ceramic vessel had remained intact in the ground and unfortunately the badger dug its tunnel through the middle of it, causing the vessel to break into over 200 sherds.
"The conservators are cleaning and stabilising the ceramic fragments before undertaking a 'jigsaw without the picture' to reassemble the vessel.
"The vessel is nearly complete with very few missing areas meaning after the conservation treatment is completed and the urn is on display, it will give a very good indication of how it would have looked when in use around 3,000 years ago."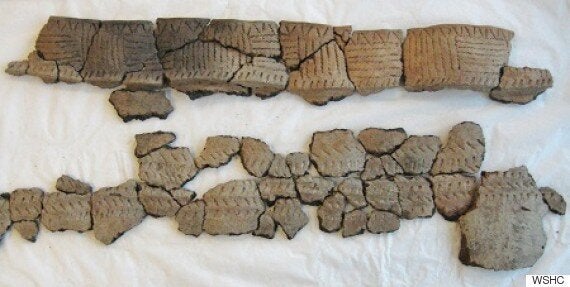 Selection of ceramic sherds
The site has now been excavated by archaeologists, with assistance from volunteers.
The items dug up by the badger will go on display at Wiltshire Museum in Devizes later this year.
The badger has reportedly been safely moved on to a new home.
This is not the first time that a badger has been responsible for an archaeological find.
According to Germany's The Local, researchers from the University of Göttingen said the Slavic burial site contains the remains of at least eight people - several warriors and two lords.