Derek Zoolander has strutted back onto screen for the long-awaited sequel to the 2001 hit, but Blue Steel is finding a less than ecstatic response to his runway return, according to the first reviews ahead of the film's arrival in cinemas this week.
The sequel finds Derek (Ben Stiller) retired from public life, following a previous disaster when his charitable Center For Kids Who Can't Read Good collapsed, killing his wife AND leaving his rival model Hansel (Owen Wilson) also badly affected.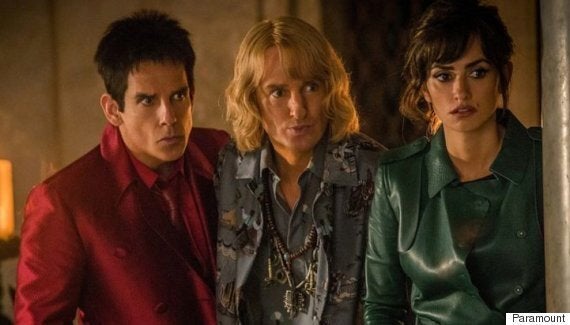 Supermodels Derek Zoolander and Hansel are recruited by Interpol's Valentina (Penelope Cruz)
Derek and Hansel are drawn - relatively reluctantly - back to the catwalk with news that some of the world's most beautiful people are being killed, and the only clue is their final selfie, borrowed from Derek's inimitable Blue Steel. Derek and Hansel must reunite, both to find Derek's long-lost son, and foil a sinister plot being hatched by his old fashion Nemesis, Mugatu (Will Ferrell).
Cameo appearances abound, from a poker-faced Anna Wintour to a keen-to-please Justin Bieber. Representing Interpol is Penelope Cruz, a Lycra-suited beauty who has personal experience of the perils of fashion - previously a swimwear model, she couldn't "transition to print and runway work".
"Slightly disappointing but still reasonably funny comeback… … Like a famous band playing live, Derek et al are required to do their greatest hits, not their new stuff — and they don't really have much in the way of new stuff… There are always some laughs to be had here, and Ben Stiller's couture legend now has an endearingly muppety look."
"Zoolander 2 is stitched together from some teeny scraps of plot, studded with a few really smart jokes and a lot of very stupid ones... A likable mess, although it lacks the memorable lines of the first, making it liable to be enjoyed once and forgotten, rather than revisited for years to come... There are so many guest appearances, possibly over a hundred. Some are well used (Susan Boyle is hilarious), but a lot of them work on the basis that recognising a famous person constitutes a joke in itself... Yet the whole thing is so ridiculous, and so enthusiastic, that it wins you over."
Variety (star review not given)
"Feels like a cheap designer knockoff… a disappointment-slash-misfire, the orange mocha crappuccino of movie sequels… Rather than coasting along on a stream of blissful comic idiocy, it cobbles together a busy skein of twists and complications, as if the mental strain of following along might distract us from how crushingly unfunny it is… Ultimately feels less like a movie than an exercise in cross-promotional synergy — an excuse for Stiller and Wilson to don Valentino trenchcoats and sashay their way through Paris Fashion Week..."
"It's hard to dodge the fact that this is really underwhelming for at least the first half hour of its running time... But just when you're ready to write it off, the film pulls out its masterstroke... The movie has its Dr. Evil back and everything else runs a hell of a lot smoother with that missing piece of the puzzle reinstated... Taken altogether, Zoolander 2 is a very mixed affair. While the appeal of Zoolander has endured for a decade and a half, the long awaited sequel seems content to be a momentarily amusing repeat."
The Hollywood Reporter (no star review given)
"The writers toss gags at the screen with varying success, relying on our existing affection for the returning characters rather than providing persuasive new reasons to invest... (in) this wildly over-plotted, under-energized action comedy, plumped to a bursting point with celebrity cameos."
Hitfix (no star review given)
"Brutally unfunny, visually off-putting, and filled with cameos so embarrassing I am bruised from holding a cringe for a full half-hour, Zoolander 2 is every horrible decision you can make with a comedy sequel wrapped up into one nigh unbearable film... Chalk this up to another long-delayed disappointment."
'Zoolander 2' is in UK cinemas this week. Trailer here:
Related