Rupert Murdoch is to return to the scene of the old print industry he destroyed in the Eighties… to get married. The 84-year-old News UK chief, who owns The Sun and The Times, is to wed former model Jerry Hall at St Bride's Church on Fleet Street, once the home of Britain's newspaper industry.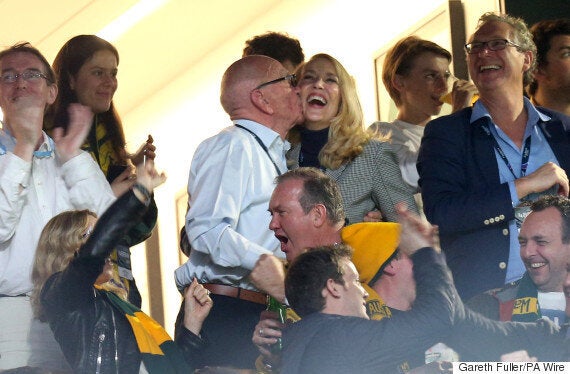 Rupert Murdoch and Jerry Hall attending the Rugby World Cup Final
The nuptials are to take place later this month at a private location before the pair exchanges vows at the famous old Church on March 5.
"I know Mr Murdoch is a very big fan of St Bride's and has been since his father cut his teeth on Fleet Street 60 years ago, so we are delighted to hold it here," a spokesman for the church said.
The UK's publishing industry had been associated with Fleet Street since the 1500s, however Murdoch ended the historic link in the 1980s, moving The Times and The Sun to Wapping. The relocation, which resulted in a year of violence and the loss of more than 5,000 jobs, finally broke the grip of the highly corrupt print unions, which the proprietor argued made running a profitable newspaper impossible. Other newspapers quickly followed, moving to other London locations.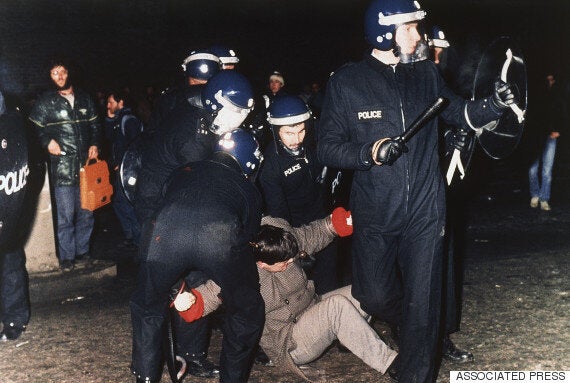 A policeman wards off missiles with his riot shield, as his colleagues lift a man to his feet, after he was knocked down during disturbances in London, United Kingdom on Jan. 25, 1987
The history of St Bride's remarks on the industrial dispute, noting: "On January 24 1986, some 6,000 newspaper workers went on strike after the breakdown of negotiations with Rupert Murdoch's News International, parent of Times Newspapers and News Group Newspapers. They were unaware that Murdoch had built and clandestinely equipped a new-technology printing plant in Wapping. When they struck, he moved his operation overnight. Within months the printing dinosaur that was Fleet Street was dead. By 1989 all the national newspapers had decamped as other proprietors followed Murdoch's lead."
The wedding will be Murdoch's fourth marriage. Hall, 59, was married once before and enjoyed a long relationship with Rolling Stones' frontman Mick Jagger with whom she has four children. Murdoch was previously married to Wendi Deng, who he reportedly paid £1.08 billion in divorce settlement after the couple split in 2013.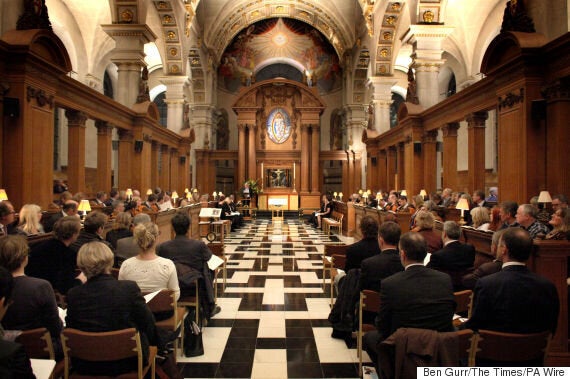 St Brides Church on London's Fleet Street, where media mogul Rupert Murdoch will celebrate his marriage to Jerry Hall
Murdoch and Hall announced their engagement in The Times on January 12. "Mr Rupert Murdoch, father of Prudence, Elisabeth, Lachlan, James, Grace and Chloe Murdoch, and Miss Jerry Hall, mother of Elizabeth, James, Georgia and Gabriel Jagger, are delighted to announce their engagement," the notice read.