A prankster has embarrassed himself after attempting to slide down the solid partition on an escalator in the London Underground.
The man, who can be seen with a beer in his hand, leaps onto the barrier as his friends jubilantly cheer, before descending down the slope.
He then crashes into the safety sign and spirals off course, tumbling onto the escalator steps where he cried out in pain.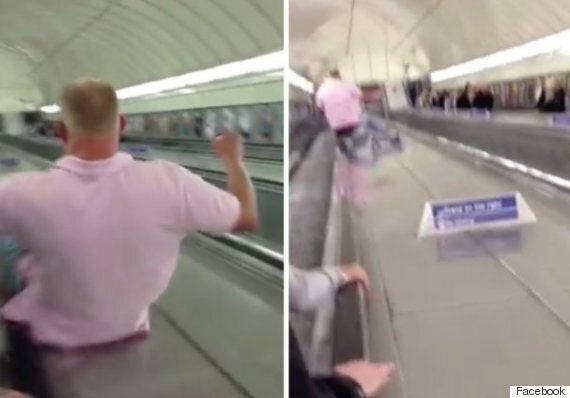 The man has been condemned by TfL for his actions
Transport for London has condemned the man's actions, saying he was putting the safety of himself and others at risk.
One of the man's friends, David Bailey, posted a clip of the stunt on Facebook, where it has been viewed over 45,000 times.
In an interview with the London Evening Standard, Bailey said: "We were all egging my other mate on to do it. It was a bit stupid, not the best idea we've ever had.
"Then he came out of nowhere and did it himself with a beer in his hand and his wallet in his hand. He came off but he was alright. There was a quite a bit of blood but no major injuries, he was a bit bruised. It was the middle of the night.
"He carried on drinking and went out afterwards. He said he woke up in the morning and he couldn't move for the rest of the week."
Mark Evers, Director of Customer Strategy for London Underground, said: "Safety is our top priority and pranks like this are dangerous for not only those involved but also to other customers.
"We have frequent PA announcements reminding customers to be careful when using escalators, and we also run safety campaigns throughout the year to encourage customers to take care whilst traveling on our network."
Related