Kensington Palace has strongly denied that Prince William has waded into the debate over Britain's membership of the EU - despite his backing for Britain "working in partnership" with other countries.
Campaigners against 'Brexit' seized on remarks by the Duke of Cambridge in which he said that the UK's "ability to unite in common action with others nations is essential".
The 'Britain Stronger in Europe' campaign was swift to declare that his comments showed that "people from all walks of life are getting behind the campaign for Britain to stay" in the EU.
And eyebrows were raised in Whitehall about timing of the Duke's remarks, just days before David Cameron is expected to formally start the EU referendum campaign after a crunch Brussels summit.
But Palace sources told HuffPost UK that the Duke, who made his remarks at a Foreign Office event in honour of young diplomats, had not intended any reference to Europe or the EU.
The Duke mentioned the Commonwealth, Nato and other partnerships, all of which Eurosceptics insist the UK will still take part in, even if voters decide to leave the EU in the referendum expected this June.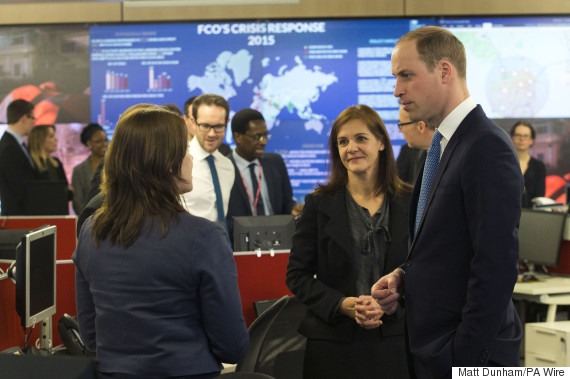 The Duke Of Cambridge meeting Foreign Office diplomats today
A Kensington Palace spokesperson said: "This speech is not about Europe. He does not mention the word Europe once".
The Duke of Cambridge, second in line to the throne, sparked the speculation with a speech alongside Foreign Secretary Philip Hammond in the Foreign Office in London.
"For centuries, Britain has been an outward looking nation. Hemmed in by sea, we have always sought to explore what is beyond the horizon," he said.
"That sense of mission and curiosity is something that I know continues to drive our economy, our cultural and educational exports and our Armed Forces and Diplomatic Service. And wherever we go, we have a long and proud tradition of seeking out allies and partners.
The Duke told recipients of the inaugural Diplomatic Academy awards: "In an increasingly turbulent world, our ability to unite in common action with other nations is essential. It is the bedrock of our security and prosperity and is central to your work.
"Right now, the big questions with which you wrestle – in the UN, Nato, the Middle East and elsewhere – are predicated on your commitment to working in partnership with others."
His remarks, which would have been seen by the Foreign Office beforehand, instantly drew comparisons with the comments by the Queen on the eve of the Scottish independence referendum in 2014.
Delivering a line that was secured by the Cabinet Secretary Sir Jeremy Heywood, The Queen had asked voters to "think very carefully" before voting.
But in stark contrast to the Scottish referendum, Royal sources insisted that the Duke was today intending no message whatsoever for the EU referendum.
That didn't stop the welter of speculation online from both the left and the right of politics.
Prince William didn't mention Europe but his advisers might have noticed big EU debate was happening. Incompetent or deliberate: you decide.

— Tim Montgomerie ن (@montie) February 16, 2016
So Prince William with For Sec in For Office calling for nations to unite, when Cameron's in Brussels, isn't backing EU? You're nicked, son

— Kevin Maguire (@Kevin_Maguire) February 16, 2016
In campaign welcomes Duke's comments -"people from all walks of life are getting behind the campaign for Britain to stay in the EU"

— Laura Kuenssberg (@bbclaurak) February 16, 2016
blah blah undemocratic unelected blah blah but enough about Prince William, what about the EU? Blah blah comedy drum roll. Kind of thing.

— @ (@twlldun) February 16, 2016
Comedy gold on Twitter as swiveled-eyed royalist EU haters try to compute Prince William's pro EU speech

— Red North (@RednorthUK) February 16, 2016
One spoof account came to the Duke's defence.
Europe & The Final Countdown.

No, not one's thoughts on the #Brexit. One's listening to 1980s rock!

— HRH Prince William (@DukeCambridgeUK) February 16, 2016
And another simply defended his right to speak out - even if he wasn't speaking out about the EU.
The über-opinionated users of Twitter expressing anger & rage at #PrinceWilliam

For voicing his opinion.#Europe pic.twitter.com/svtQVjVeUV

— Alun Saunders (@alunsaunders) February 16, 2016