A cyclist has been heavily criticised online after video emerged of him aggressively confronting a female motorist who he accused of turning too close in front of him.
The video, posted on Idiot UK Drivers Exposed's Facebook page, was filmed on the unnamed cyclist's helmet-camera and shows the male rider being overtaken by three cars.
The second car to overtake, which has its indicator on, continues down the road before turning left into a Lidl car park - which infuriates the cyclist who is heard shouting: "What are you some sort of fucking idiot? You're on camera."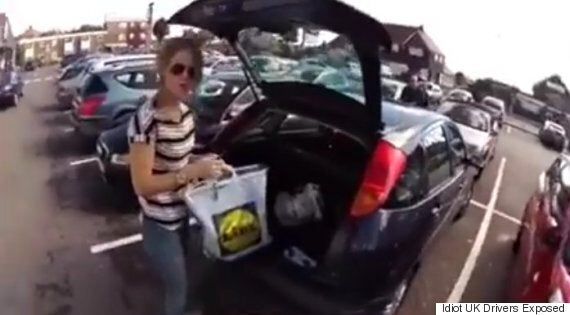 The female motorist is confronted by the cyclist who accuses her of turning too close in front of him
The man then confronts the female driver as she opens her boot, saying: "Excuse me, I don't know if you realise what you did out on the road back there but it's really dangerous.
"You overtook me, I'm doing 20-odd miles an hour down the road, you overtook me as I came up to the turning there and then turned in on top of me."
The women tells the man he was "miles back" and asks to see his footage of the incident.
The cyclist says he has the woman's car registration and threatens to call the police.
The woman who appears calmly indifferent to the accusations, later apologises and the cyclist says he will "wipe" his footage and "this will be the end of it".
Idiot Uk Drivers Exposed captioned the video: "Cyclist 100% At Fault! Do you agree?"
Greig Allan wrote: "What an absolute moron of a cyclist. Should be reported for A: Being a twat and B: For harassment. Wish it had been me he had approached. Then again probably a spineless idiot who picks on woman."
Imran Butt added: "What a brave man you are going up to the lady and intimidating her like that. She was a good distance away from you, gave you plenty of room and indicated. 100% cyclist in the wrong here. Sadly it's people like this that give genuine cyclists a bad name what an absolute muppet."
The video has been viewed 76,000 times.