Men who carry their mobile phone in their pocket could be inadvertently "cooking" their sperm, a new study has suggested.
A group of scientists based in Israel monitored more than 100 men over the course of a year.
They found that almost half of the men (47%) who kept their phones in their front trouser pocket had low sperm levels, compared to 11% of the general population.
The study also revealed that men who chatted on the phone for more than an hour each day were twice as likely to have low sperm quality as those who spoke on their mobile for less than one hour per day.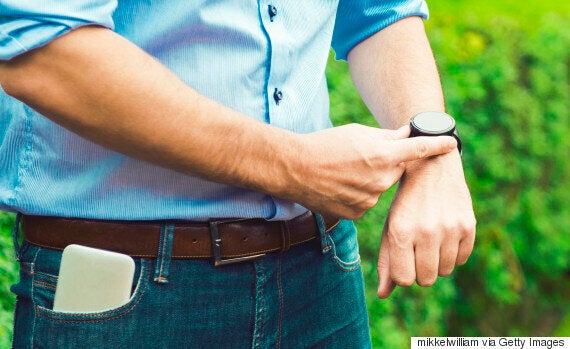 Throughout the study participants filled out detailed questionnaires about their lifestyles including their mobile phone usage.
They noted down how much time they spent on the phone each day, where they were carrying their phone and whether they received calls while charging their phones.
In addition to pocket placement and extensive call times being found to negatively affect sperm, the researchers also found that speaking on the phone while charging was linked to lower sperm counts.
According to the Daily Mail, Professor Martha Dirnfeld, of the Technion University in Haifa, which carried out the study, said: "The [sperm] levels were down to a number that would make conception difficult.
"If you are trying for a baby and it doesn't happen within a year you might want to think of whether it could be your mobile phone habit that is to blame."
Speaking to The Huffington Post UK, Professor Geeta Nargund, medical director of Create Fertility, said negative associations between mobile phone exposure and sperm viability and motility have been reported in the past.
"Thermal effects could increase the temperature of testes since mobile phones are carried in trouser pockets. Age, smoking and other lifestyle factors also need to be taken into account," she said.
"Men need to consider the findings of this study, and previous studies of potential detrimental effects of mobile phone exposure on sperm quality, and reduce their exposure.
"We need further large randomised studies to establish if the effects are due to heating or radiation or both."
The study has also led Professor Gedis Grudzinskas, a fertility consult at St George's Hospital London, to warn men to be mindful of their mobile phone habits.
"And do you need to keep the phone right next to you on the bedside table? Some men keep their mobile in their shorts or pyjamas in bed. Is that really necessary?"