One person has died, three are missing and five are in hospital after a building "collapse" at Didcot power station in Oxfordshire on Tuesday. A further 50 people were treated for dust inhalation.
Area manager Mat Carlile, from Thames Valley Fire Control Service, said: "I can confirm search operations are in progress and that there has been one fatality, five persons have been taken to hospital and three persons are currently missing."
Thames Valley Police attended at the scene shortly after 4pm. South Central Ambulance Service dispatched an air ambulance, three road ambulances, a rapid response vehicle and a hazardous area response team to the area.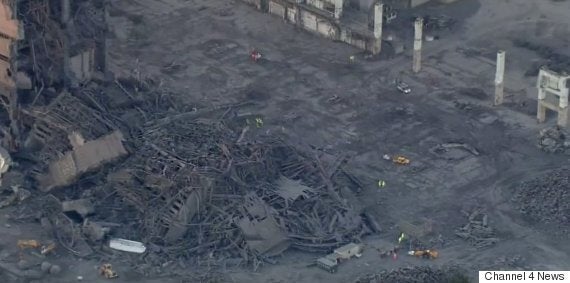 A screen grab from Channel 4 News shows the devastation at the former power plant in Oxfordshire
A union official said that workers were "preparing two boilers for demolition in the coming weeks." He added that this led to the collapse.
Oxfordshire Deputy Chief Fire Officer Nathan Travis said half a ten-storey building collapsed.
"So you have got a rubble pile which is approximately 20 to 30 feet deep at the moment," he added. "The search will be considerable due to the instability of the site. We expect the search to continue throughout the night and possibly into the coming days. It is a substantial collapse of a building."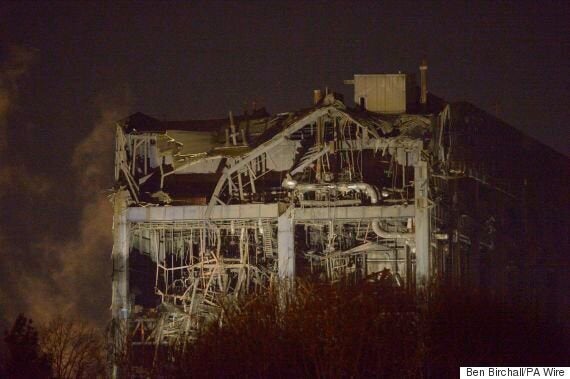 Didcot Power Station in Oxfordshire where a major incident was declared and a fatality reported after a building collapse
Didcot constituency MP Ed Vaizey told BBC News: "There is a coal power station there and there is a gas-fired power station there, and the coal power station has been decommissioned. There are six cooling towers, they are the symbol of Didcot, and three of those towers were brought down in a properly-controlled explosion a year ago and the next three are due to be brought down soon. Obviously there are large buildings also to be taken down by professional contractors. I don't know if this is related to that."
Speaking to the Oxford Mail, Rodney Rose, deputy leader of Oxfordshire County Council, said earlier: "I have been told there has been one fatality, but the rest is currently unknown. The fire service is there now and we are still trying to find out if this was a demolition."
"At the moment this is being treated as a collapsed building, not an explosion, but there was a bang," he added.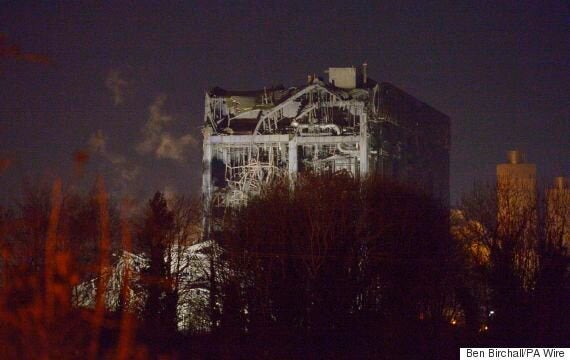 One person died in the collapse and three remain missing
Photographs from the scene showed a large section of building missing, part of the former coal-fired Didcot A plant.
The power station was closed in 2013. A year later, hundreds watched as three cooling towers were demolished.
David Cooke, whose company Thames Cryogenics overlooks the power station, said: "Our building shook and as we looked out of the window, the end of the main turbine hall collapsed in a huge pile of dust. It totally obscured the towers and must have drifted across the roads and main rail line. What's left looks a tangled mess."
"The dust was hanging over the area for five to 10 minutes," he added. "First thought was it didn't looked planned, followed by the thought that people are going to have been hurt."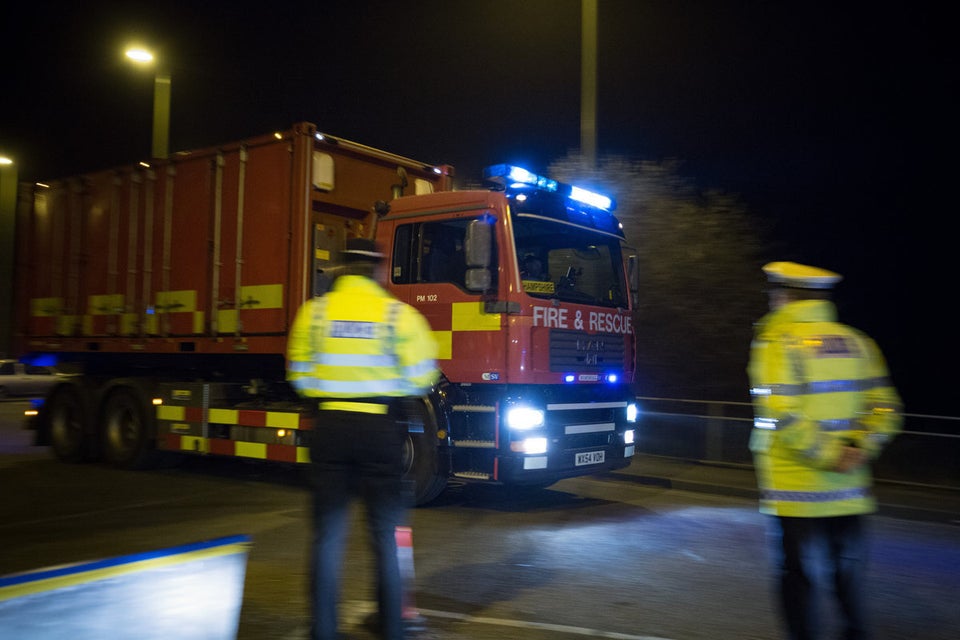 Didcot Explosion
Related