If 'Star Wars' bosses are looking for inspiration about who they should cast in the new sequels, they should look no further than 'EastEnders'.
Phil Mitchell has proven what a good Sith Lord he would make, after BBC Three bosses debuted a new skit to promote their switch to being an online-only broadcaster.
The Walford hardman, who is played by Steve McFadden, is seen being a dab hand with a lightsaber, as he smashes up Christian Cooke's flat, in old scene that has received the CGI treatment.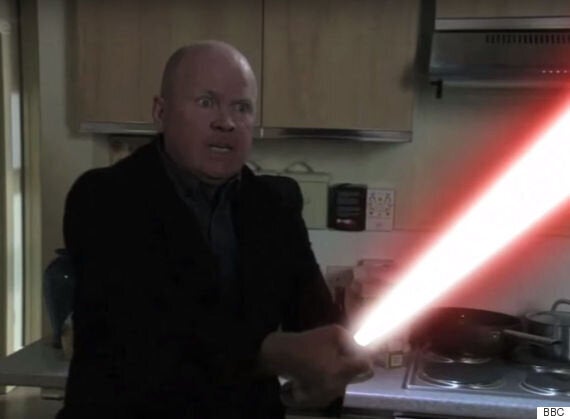 Darth Walford aka Phil Mitchell
Christian (John Partridge) also does his best Chewbacca roar, showing he'd also make a convincing Wookiee.
It isn't the first time 'EastEnders' has helped promote BBC Three's online move.
Last week, it squeezed in a scene involving Sonia Fowler being caught browsing the site by girlfriend Tina Carter.
Tina then commented: "Ain't BBC Three a bit young for you? Oh wait, don't tell me - Bex told you she was watching something?"
While BBC Three used to air repeats of the show, UKTV channel W has picked up the rights to replay it each night at 10pm.