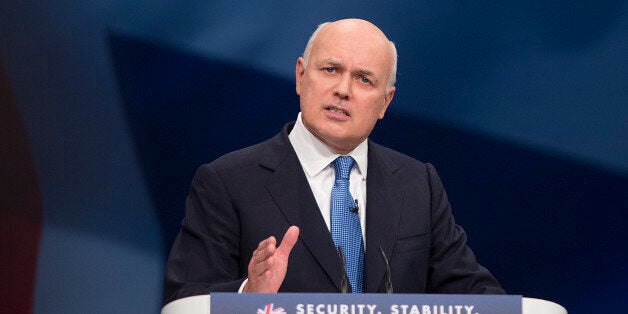 Iain Duncan Smith has defended his decision change the way child poverty is measured, as one Tory MP fired a "warning shot" across his bow over cuts to disability benefits.
On Tuesday evening the government successfully won a Commons vote on scrapping income-based measures of child poverty. It will be replaced with a duty to report levels of educational attainment, worklessness and addiction.
Labour MPs have accused the Conservative Party of trying to "hide" the level of child poverty.
In a speech in Westminster as the Commons debate was taking place, Duncan Smith insisted the Welfare Reform and Work Bill introduced a better way of measuring poverty.
"The worklessness measures will identify the proportion of children living in workless households, and the proportion of children in long-term workless households. The educational attainment measures will focus on GCSE attainment for all pupils and for disadvantaged pupils," he said.
"Alongside this will be a range of non-statutory indicators to measure our progress against the other root causes of poverty.
He added: "By measuring these things, it is my hope that future governments can never again ignore or misrepresent the true nature of poverty in Britain. To paraphrase Joseph Stiglitz: we are creating the right metrics so that we will strive for the right things."
Labour's Shadow Minister for Disabled People, Debbie Abrahams, told the Commons on Wednesday evening that while there was a positive correlation between worklessness and educational attainment and poverty, those were not indicators or measures of poverty.
"Being able to pay their rent is an increasing issue; 443,000 are currently affected. Having a secure, warm home with healthy, nutritious food are basic physiological needs," she said.
"When these needs are not there, people's health suffers both physically and mentally. This is particularly the case for children as they are developing. Being in work or well educated does not guarantee these essential needs; money does."
Duncan Smith's Bill also slashes benefits for those claiming disability Employment and Support Allowance (ESA). Tory MP Heidi Allen used a Commons speech to fire a "warning shot to government" as she vowed to fight the cuts.
The Government wants to cut ESA from £102.15 to £73.10 if they are deemed fit for "work-related activity".
Allen told ministers: "Let's get the detail right. Let's be a government of sweeping strategic change, but let's be one with the compassion and the dexterity to look after the little man too."
Related