Ibby Piracha goes into his local Starbucks three times every week. Because he is deaf, he types his order into his phone and shows it to the barista behind the counter.
But all that is about to change.
One barista at the branch, in Leesburg, Virginia, has made it her mission to make Piracha feel welcome.
She recently handed Piracha a note that said: "I've been learning ASL [American Sign Language] just so you can have the same experience as everyone else."
Piracha shared an image of the note on Facebook earlier this week, saying: "I am surprised she learning sign language because I attend to Starbucks three times in a week. She asked me 'what you want drink?' in sign language. I am so blessed with her [sic]."
"I was glad to hear someone supporting the deaf community. Sometimes we feel kind of pushed away, and I wish hearing people were a little more assertive to learn more about us and our community."
Piracha's Facebook status has been like more than 13,000 times, with dozens of people saying the barista's dedication has inspired them to learn sign language.
Facebook user Alfredo Vargas said: "Amazing, hopefully more people follow this by choice. I'm certainly going to buy an ASL dictionary now, its gonna come in handy."
Tap the picture to launch slideshow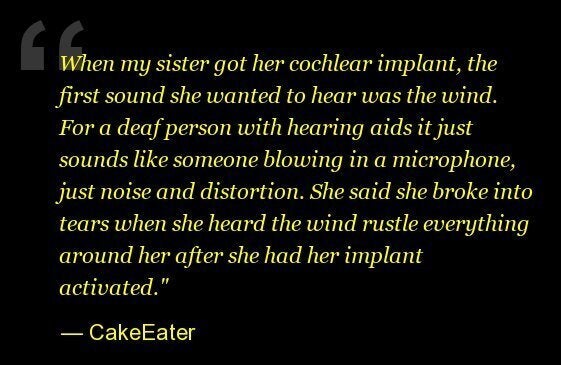 11 Sounds Deaf People Would Love To Hear
Related