There's nothing more British than talking about the weather and saying sorry for, well, everything - something BBC weather presenter Rachel Mackley knows all about.
The BBC South East presenter was delivering the weekend forecast on Friday as normal, but things took a turn for the worse when she fainted in front of shocked viewers - and her co-presenters.
But in truly British fashion, Rachel apologised before stumbling backwards and passing out.
"I'm so sorry, I'm going to faint," she told viewers before the camera quickly panned to BBC South East Today hosts Polly Evans and Rob Smith.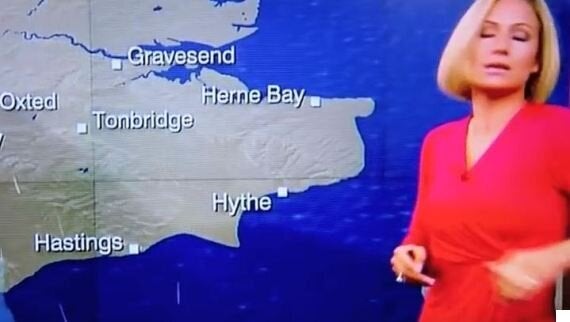 Presenter Polly told viewers: "We just need to have a check on Rachel there."
Thankfully, the presenter was absolutely fine after the scary incident and her friend, BBC sports reporter Claire Cottingham later tweeted to reassure viewers that she'd made a full recovery.
"Just spoken to Rachel Mackley and she's doing okay. Scary moment on South East Today but she's doing alright," she tweeted.
Viewers took to Twitter to send their best wishes to the presenter following the incident.
One user wrote: "Hope Rachel Mackley is okay? Well done to Rob and Polly for carrying on so well when she was taken ill."
Another added: "Just witnessed weather girl faint live on air @bbcsoutheast. Poor Rachel Mackley, do hope she is ok?"
A BBC spokesperson said: "Rachel is recovering well and hopes to be back on air soon."
Watch Rachel delivering her ill-fated weather forecast in the video above.