A 100-year-old great grandmother is still a picture of health thanks to over 30 years of dedication to yoga.
Jean Dawson, from Cottingley, West Yorkshire, has been bending and twisting her body almost every single week for the past three decades.
"I must have good genes," explained Dawson, who has five grandchildren and two great grand children.
"I really enjoy doing yoga. It has really changed my life and has helped cure aches and pains. I use to have trouble from a slipped disc in my back but doing yoga really helped me cope with it."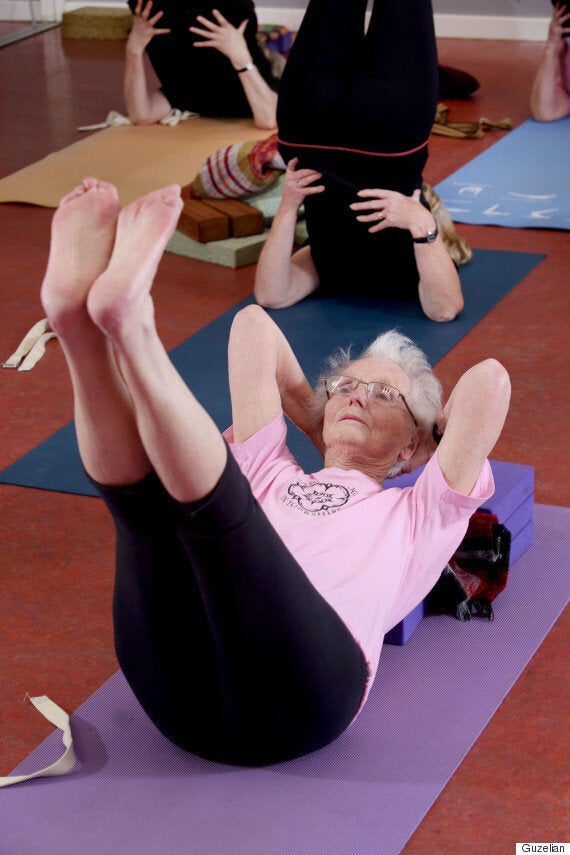 Dawson said: "I have met many kind people through yoga and made some good friends. I don't know how I would be today if I hadn't taken up Iyengar Yoga.
"It has given me good posture, balance, concentration, flexibility and stamina, I heartily recommend yoga to all and sundry - suffice to say I'm a yoga addict."
Dawson first took up Iyengar Yoga at the age of 67 after seeing an advert for local classes.
She has spent 20 years and counting under the guidance of yoga teacher Christine Tyson, 66, who has been amazed by Dawson's dedication.
Tyson, who has been practicing Iyengar yoga for 42 years, said: "It takes commitment and will power to get out of bed on a Monday morning let alone come to a yoga class at the age of 100.
"Jean is a role model in class, if Jean can do it so can the class. She even tells someone when their posture isn't right.
"We think she is remarkable, love and respect her. Jean works hard in the class but sometime I need to modify the posture so we use props such as chairs, foam bricks and blocks."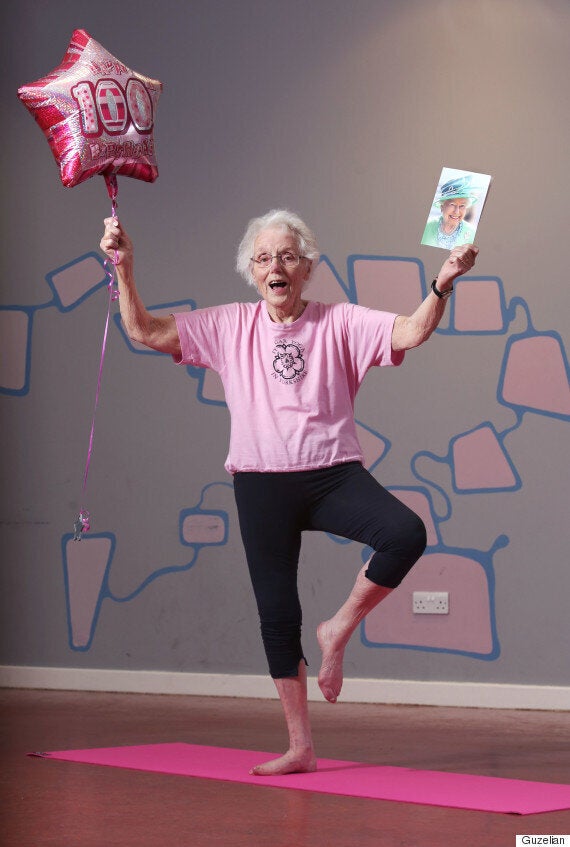 Jean Dawson celebrating her 100th birthday
Dawson was born in St Pancras, London, in 1916 before she was given up for adoption at Spurgeon's Orphan Home following the death of her father. Her mother was unable to afford to keep her.
Despite reaching the milestone of her 100th birthday on 20 February, she shows no signs of slowing down and continues to keep up with the rest of her classmates at the Windhill Community Centre in Bradford, West Yorkshire.
Dawson, a former Land Army girl, added: "You can only do what you can do. A few years ago, I could do all the handstands and everything but I have to stop doing those now due to my blood pressure.
"Doing Iyengar Yoga has helped me more than anything and I really enjoy the company every single week, so I think I can continue for a little longer."
Dawson's yoga instructor added: "I love seeing the transformation that Iyengar Yoga can bring about. Yoga gives back what you put in, you have only to look at Jean."
Iyengar Yoga was founded by Bellur Krishnamachan Sundararaja Iyengar, who was considered one of the foremost yoga teachers before he passed away in August this year.
This type of yoga is a form of Hatha Yoga, working on posture, alignment and muscular awareness, which is a form of meditation and relaxation.