The five things you need to know on Wednesday February 24, 2016…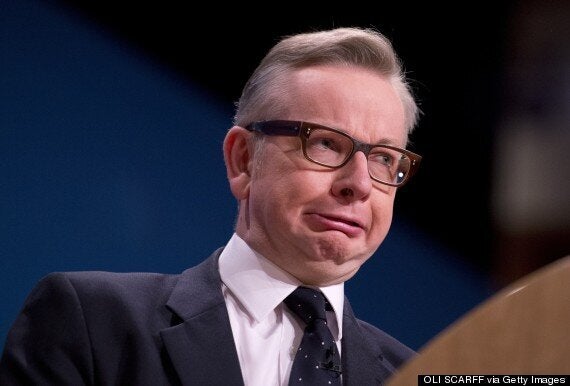 It's PMQs day again and David Cameron and Jeremy Corbyn will both be hoping they get a better show of support from their backbenches than they did in the EU statement on Monday. Normal service will probably resume, though Corbyn will probably want to shift the debate away from Europe to things like either the junior docs strike (see below) or child poverty and disability benefits (see below too).
One big problem for the PM is Michael Gove taking down his claims that his EU deal is legally binding and irreversible. The Justice Secretary is typically polite but typically bruising as he directly contradicts Cameron on this on the BBC, saying the European Court of Justice can rip up the package.
No.10 was swift early today to tell me that: "It is not true that this deal is not legally binding. Britain's new settlement in the EU has legal force and is an irreversible International Law Decision that requires the European Court of Justice to take it into account."
But Team Gove were equally swift in pointing out those last four words: 'take it into account' is not the same as 'approve'. The PM tried to be nicer to Boris yesterday (though Boris had a pretty robust morning doorstep of his own, slagging the business chiefs letter), but he must be quietly seething at Gove's latest move.
In her Mail column Gove's wife Sarah Vine writes: "Baroness Thatcher herself could rise from her grave to tell him to get back in his box, and still he wouldn't." So Dave had no chance. The trouble for the PM will get worse next week when Gove and Boris unite to reject what is expected to be a weak offering on sovereignty drafted by Oliver Letwin. It may not even be a law now. Let's see if either Gove or Boris turns up to PMQs.
Meanwhile, the BBC will air its biggest ever debate in front of 10,000 at Wembley Arena two days before the polls open. Who the hell is going to turn up to that, other than diehards on both sides?
The BBC's own guidelines prevent it from leading on polling stories for this EU referendum. But that doesn't stop the newspapers and today the only consensus seems to be that it's all rather closer than either side would like.
The Times/YouGov poll shows that 38% back Brexit and 37% want to remain, with 25 %undecided or not planning to vote. That's a sharp fall in the Brexit from last month. Note this is the first of its new polls since changes gave greater weight given to people who say they pay little attention to politics. Boris has more trust than other politicians, but the public as ever are contradictory: 21% think he is acting in the best interest of the country and 40% in the best interest of his career.
The DailyMail/ComRes poll gives 'Remain' a 12 point lead, with 51% to 39% saying they'd vote to leave. Most Britons think that the level of net migration to the UK will either not change (53%) or increase (21%) following Mr Cameron's renegotiation. One in five (22%) think it will decrease as a result of the deal.
The Indy has a different tack, citing the National Centre for Social Research that two-thirds of the electorate were unhappy with Britain's current membership terms. But when given a straight choice between staying or going, 60 per cent thought Britain should stay in the union compared with 30 per cent for Brexit.
John Curtice, one of the few pollsters to emerge with credit from May 2015, warns that "The Leave campaign evidently needs to persuade more voters of its economic arguments." That's why No.10 pushed its business letter hard yesterday. Though the Sun fisks that letter today, revealing that some on the list were Tory donors, 'foreigners' (a former Miss Normandy, helpfully pictured in her bikini) or hadn't even seen the letter (like one pub landlord John Harries).
Meanwhile, some Tory MPs are wavering as much as the public. The FT reports the campaign by both sides to squeeze the 80 'undecided' Tory backbenchers. Getting a majority of Tory MPs is a hugely symbolic prize for In and Out camps. Maybe that's why there was so much online interest in Alan Mak and Charlie Elphicke both plumping for 'Remain' yesterday. Careerism had nothing to do with it, oh no.
Blair's baffled. Just baffled. In a joint interview with the Guardian and FT he says that he can't fathom the rise of Jeremy Corbyn or Bernie Sanders.
"One of the strangest things about politics at the moment – and I really mean it when I say I'm not sure I fully understand politics right now, which is an odd thing to say, having spent my life in it – is when you put the question of electability as a factor in your decision to nominate a leader, it's how small the numbers are that this is the decisive factor. That sounds curious to me."
Blair has been baffled continuously since last summer and God knows what he thinks about Donald Trump's latest primary victory in Nevada last night. Worrying pointers for his opponents: Trump won a majority of Latino voters and edged Cruz among "very conservative white evangelicals" by 38-32.
As for Corbyn at home, the latest ElectionData/YouGov poll shows he would win an even bigger landslide among Labour members if challenged for the leadership. But there's a glimmer of hope for 'moderates' an analysis done for HuffPost: a single 'moderate' candidate could beat McDonnell in a post-Corbyn leadership race. But how on earth would MPs get Jez to quit? He looks like he's going nowhere for now.
BECAUSE YOU'VE READ THIS FAR…
It's the last thing the Government needs when it's trying to focus on the EU referendum but Jeremy Hunt is facing trouble again. Junior doctors have unveiled three new waves of strike action (Wednesday 9 March, Wednesday 6 April from 8am, Tuesday 26 April) and a legal challenge.
The Health Service Journal had a neat scoop yesterday as the government's former patient safety adviser said ministers were wrong to impose the contract. Prof Don Berwick said there should be a three-year moratorium on the imposition of the new contract and called on the government to "apologise".
The BMA knows it risks losing public support with more action, but I wonder if a canny Brexiteer can use anti-Cameron feeling on this to good effect? It's quite an ask, but you never know. Lefty fears over the impact on the NHS of the EU-US trade deal (aka TTIP) are the dog that hasn't barked in the referendum so far.
And there's more trouble for Hunt. The BBC's excellent Health Editor Hugh Pym reports a trail of emails shows Whitehall officials attempted to cover up the fact that the Health Secretary had seen a sensitive study into weekend deaths at least two months before it was peer reviewed and published.
5) POVERTY OF EXPECTATIONS
In his CSJ speech last night, IDS was pretty defiant about dumping income-based measures of child poverty. He even cited Jezza Corbyn's new pal and Nobel Prize winning economist Joe Stiglitz (who posed for a pic with JC and McDonnell last week).
IDS said: "By measuring these things, it is my hope that future governments can never again ignore or misrepresent the true nature of poverty in Britain. To paraphrase Joseph Stiglitz: we are creating the right metrics so that we will strive for the right things." Knowing how off-piste Corbyn likes to go at PMQs, maybe he will pick up on this?
Corbyn would be wise too to seize on Tory backbench unease over disability benefits cuts that were aired in the Commons yesterday. Ominously, the tag-team of Heidi Allen and Stephen McPartland - the Conservative canaries down the coal mine on tax credits cuts - who were out again. Allen fired 'my warning shot to Government' yesterday.
If you're reading this on the web, sign-up HERE to get the WaughZone delivered to your inbox.
Got something you want to share? Please send any stories/tips/quotes/pix/plugs/gossip to Paul Waugh (paul.waugh@huffingtonpost.com), Ned Simons (ned.simons@huffingtonpost.com), Graeme Demianyk (graeme.demianyk@huffingtonpost.com) and Owen Bennett (owen.bennett@huffingtonpost.com)
Popular in the Community