Boris Johnson has stirred up the row with David Cameron over the European Union referendum by suggesting the Tory leader should remain at the helm at the next election.
The Worcester News has reported how the London mayor, who set himself against the the Prime Minister and electrified the EU campaign by backing "Brexit", told local politicians and business leaders Cameron should not be held to "one conversation with a BBC journalist".
Explained: Everything You Always Wanted To Know About The EU Referendum But Were Afraid To Ask
EXCLUSIVE: Stay on as Prime Minister BEYOND 2020, Boris Johnson urges Cameron on city visit https://t.co/WZtBocDV6qpic.twitter.com/dUlLbmR7cd

— Tom Edwards (@tomedwardsWN) February 26, 2016
The Conservative Party leader told the BBC's James Landale before the May vote he would stand down before the 2020 election, triggering future leadership speculation with Johnson seen as one of the favourites. Critics believe Johnson backing the "leave" campaign puts him in pole position, both if the UK votes to stay or go.
His latest comments could either be seen as an olive branch to the PM, or an attempt to provoke him. Cameron told the Commons for the first time on Monday he would stand down before the end of the five-year term.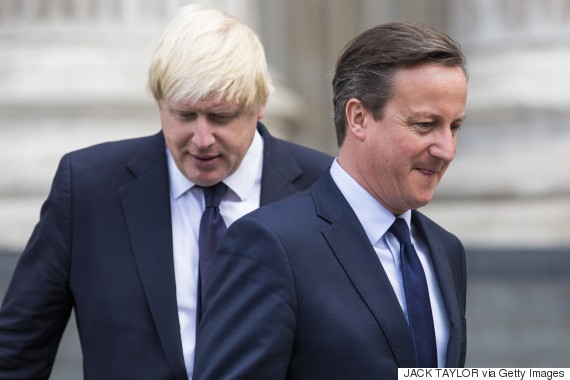 Cameron told the BBC's James Landale before the May vote he would stand down before the 2020 election
Most think if the UK votes to leave the EU, Cameron will be forced the quit in humiliation. Johnson was speaking to around 400 people at Worcester's Sixways rugby stadium.
Local Tory MP Robin Walker told the paper: "The EU issue did come up, you'd expect it to - Boris said we all have a view on Europe, he explained his and said it's brilliant we've secured a referendum to give people a chance to have their say.
"He did also say he felt David Cameron should stay on as Prime Minister after the next election and said 'one conversation with a BBC journalist' shouldn't be the reason he stands down."
Fellow Worcester MP Karen Lumley, who organised the event, said: "He did say that when this is all over (the EU referendum) he hopes David Cameron will change his mind and stay on.
"He's laid out his view. The Prime Minister made it quite clear on Monday though that he was going, he said he didn't intend to be here for another term."