A major 7.9 magnitude earthquake has struck off the south-west coast of Indonesia, the US Geological Survey has reported. The quake had initially being reported as being at a magnitude of 8.1, but has since being scaled down.
The USGS said the quake struck off the west coast of the Indonesian island of Sumatra at a depth of just 10km.
Indonesia confirmed a powerful earthquake hit parts of Sumatra island and issued a tsunami warning for West Sumatra, North Sumatra and Aceh, and for Christmas Island and Cocos Island.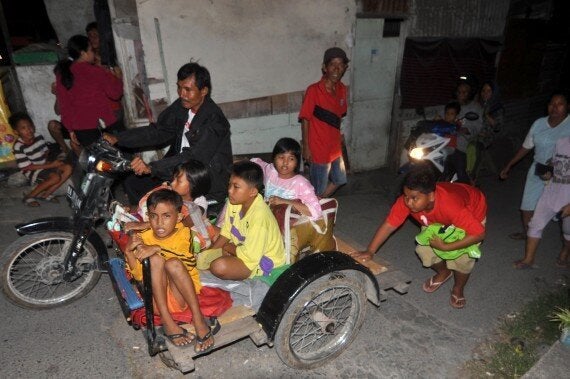 Indonesian's flee to higher ground after tsunami warnings were issued following the earthquake
The Australian bureau of meteorology also issued a watch alert for the country's west coast. It said evacuations were not required but due to large waves and strong currents, people should "get out of the water and move away from the immediate water's edge".
Authorities in India have said said their initial assessment was that there was no tsunami threat. Sri Lankan media also reported the country's disaster management centre as saying there was no threat.
Residents near the city of Padang told the BBC that they felt two earthquakes around two minutes apart.
The earthquake was felt strongly in Padang for a few seconds, AFP reports, with people running out of their homes to higher ground.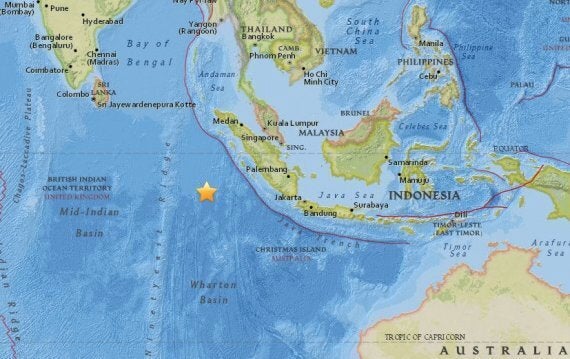 A US Geological Survey map of where the 7.9 magnitude quake hit
The epicentre was 502 miles (808km) south-west of Padang, USGS said. It was six miles (10km) deep.
There were no immediate reports of damage or casualties but the shallower a quake, the more likely it is to cause damage.
On Boxing Day 2004 a massive earthquake created a tsunami causing devastation in parts of Indonesia ,Sri Lanka, India and Thailand, resulting in the deaths of more than 300,000 people.
Related