The parents of a visually-impaired boy believe their family dog saved their son from going blind, by showing them he had a condition affecting his eyes.
Mark Cannon, five, has been inseparable from his pet dog Alfie since he was a baby, but his family could never explain why the dog always walked on Mark's right side.
The family had Mark's eyes checked and in April 2015 a school optometrist diagnosed him with astigmatism in his right eye, which caused him to see distorted images and have blurred vision.
It was then Mark's mum Sharlene and dad Mark Snr Cannon, both 42, realised the Dogue de Bordeaux stood to their son's right to act as a guide.
"Mark definitely owes a lot to Alfie," Mrs Cannon from Strathaven, South Lanarkshire, said. "It's like Alfie has superpowers and knows when there's something wrong." Mark Cannon's pet dog Alfie always stays on his right side
Mrs Cannon got Alfie as a puppy in 2011 and said the dog has always been incredibly protective of Mark.
"When Mark started nursery, Alfie demanded to come in the car with us to drop him off and pick him up," she said.
"As soon as he came back, they would sit and have lunch together. It's frightening how protective he is of Mark.
"There was a time years ago when my auntie was here and she was tickling Mark. He started giggling and Alfie ran flying into the back garden, head-butted my auntie and stood in front of Mark so she couldn't get near him."
She said her son and the dog have grown up together, and the family had just thought it was a funny coincidence that Alfie would only sit or walk on one side of Mark.
"We never thought much more of it," Mrs Cannon said. "Even when they sat on the couch together, Alfie would always prop himself to Mark's right.
"When he saw the optometrist, straight away they noticed Mark couldn't see out of his right eye because it was so blurred.
"Basically, the signals between his right eye and his brain weren't working.
"If they hadn't spotted it when they did, it could have affected his left eye over time and he would have gone totally blind.
"They have to spot it before someone turns seven or it's nearly impossible to correct.
"Mark never mentioned it because he didn't know any different. It's mad when the dog understands what's going on before the humans.
"They have this unbelievable bond. Alfie's instinct is incredible. He knows when something is wrong with Mark before we do, even when he's just feeling unwell." Mark Cannon's dog Alfie still never leaves his side
After his diagnosis Mark, who has an eight-year-old brother, James, began wearing patches on his good left eye in order to strengthen his weakened right one.
And Alfie still never leaves his side.
Mrs Cannon said: "We call them the twins because they're inseparable and this just proves they have that telepathic relationship.
"He has to wear patches now on his good eye to try to improve his bad one, but Alfie still walks on his right. Even if you try to walk him on the other side, he will push you until he's on Alfie's right.
"It doesn't end there. Since August last year we noticed Alfie would sniff at the back legs of our other dog Cass.
"We took Cass to the vet in December and she was diagnosed with a tumour in her back leg, exactly where Alfie had been sniffing and licking.
"We couldn't believe it. He certainly knew about it before anyone else. Cass had chemotherapy but she passed away in January 2016."
Despite his astigmatism, Mark plays football every Saturday and his vision is improving with regular hospital check-ups and eyesight tests.
"Mark's right eye is getting stronger now, but it's too early to say if it will follow him into adulthood," Mrs Cannon added.
"His left eye is fine and he wears glasses now so hopefully it won't affect him too badly.
"You think as parents that you know your children, so for a dog to notice something like that is special. I think Alfie's been on this planet before. There's just something all-knowing about his nature."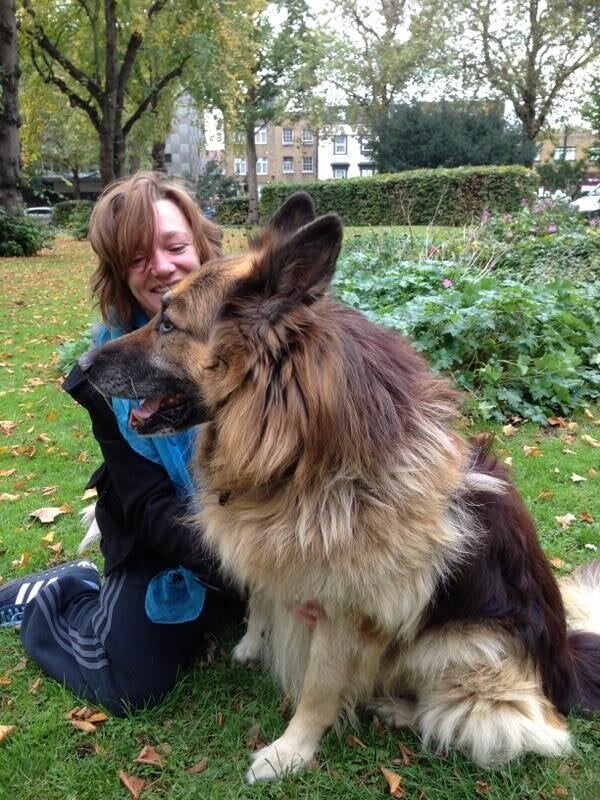 Dogs Trust's Hope Project
Related