A man wanted on suspected credit card fraud charges has been arrested by police officers - after being pulled over driving a pink child's Power Wheels car.
David Schumaker, 26, was behind the wheel of the electric toy on the side of a road in San Jacinto County, Texas, when Deputy Nathan Deweese pulled him over.
"Yes, that story is perfectly true," a police spokesperson confirmed. "We were just as surprised when the report turned out to be spot on. Someone who was passing took the picture, and it has caused a lot of amusement.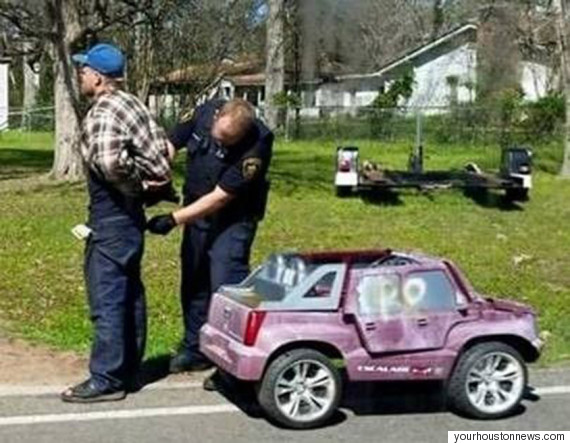 Locals say the perp used the pink car, intended for ages 5-10, as his own personal transportation for some time.
"He rides this thing around just to get around town and everybody bothers him about it," friend Chris Fuller told KHOU. "One time I seen him drive all the way from Livingston all the way to here. I'm not joking."
According to reports, Schumaker had been looking for a new battery for the toy car at the time of his arrest.