Warning: This article contains images of an extremely graphic nature.
A truck driver discovered he had a rare and aggressive form of cancer after his wife pressed him to see his GP for what he believed to be an 'insect bite'.
Father-of-four Brian Walker, 43, from Longtown, Cumbria, finally saw medics after a lump on the back of his arm grew to the size of a 50 pence piece.
He soon discovered that it was in fact a tumour so rare there are only five recorded cases.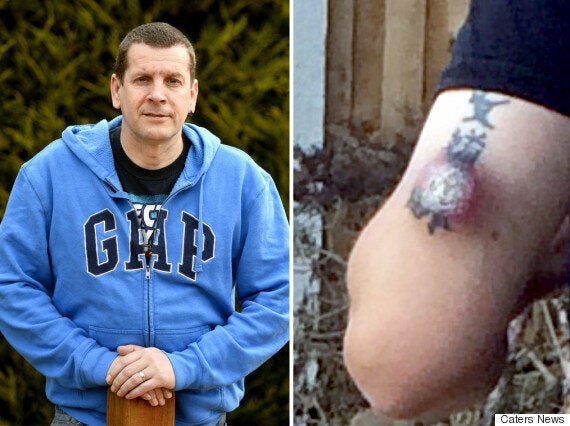 Brian Walker thought the lump on his arm was an insect bite
Now, eight months on, Brian has finally returned to work as a truck driver. He credits his diagnosis to his wife, Helen, 44, who made the appointment in the first place.
After he first spotted a lump on the back of his left arm, Brian dismissed it as an insect bite, despite it growing in size over eight months.
But Helen refused to believe him and kept telling her husband to seek medical advice, eventually she took matters into her own hands and made a GP's appointment on his behalf.
After his appointment, Brian was immediately referred to The Cumberland Infirmary for a biopsy.
When initial tests left doctors stumped, he was sent on to the Freeman Hospital in Newcastle where he was diagnosed with an extremely rare inflammatory myofibroblastic tumour, a growth that usually forms as an invisible lump inside of the body.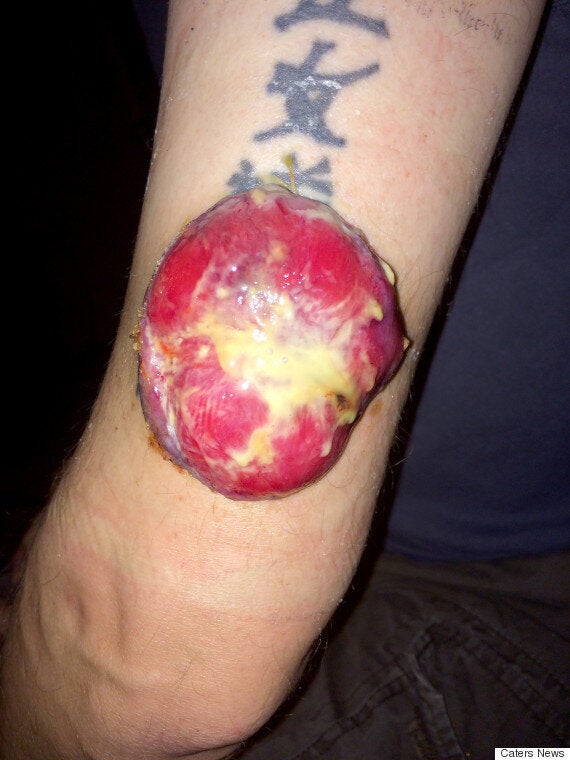 The tumour on Brian's arm
Surgeons were able to remove the lump on 17 November and had to use skin and muscle from Brian's back to repair the gaping wound that was left.
Helen said: "Brian was suffering from an aggressive and malignant cancer, but he put it down to a bite. I kept telling him to get to it checked out.
"I'm very pleased I got him to go to the doctor. He could have lost his arm if he hadn't been treated. The point is you can't just regard a lump as nothing. It should be checked out."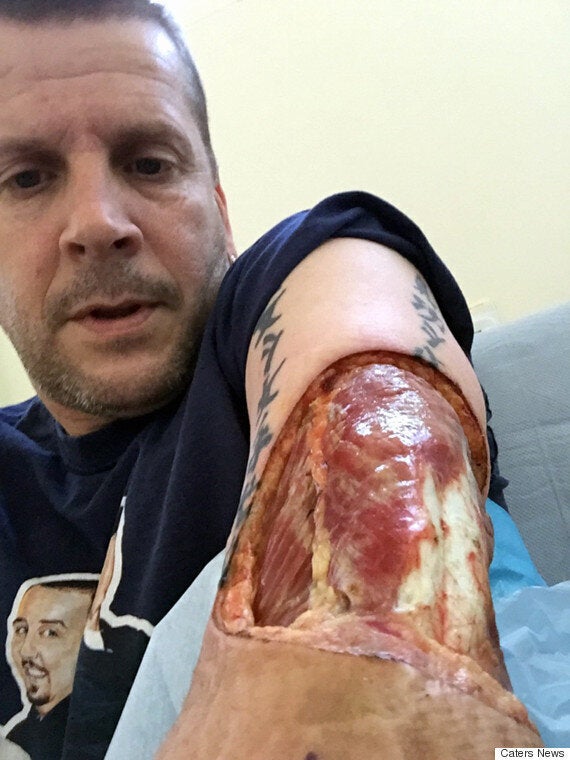 Brian Walker after having the cancer removed
Brian said: "At the time, I thought 'the lump is not hurting me,' so I just left it. Some people complain if their wife nags them but going to that appointment had a big impact on my life.
"I'm your typical truck driver, so just get on with things, but I don't know where I'd be now if I hadn't gone."
Brian underwent operations in the Freeman Hospital and then went for follow-up treatment in the Royal Victoria Hospital, both of which he credits as being "brilliant".
"I also went to Maggie's Cancer Centre in Newcastle, which was so welcoming. The people there were unbelievably good," he said.
"When you're in hospital, everything is clinical. Then you walk into the centre next door and it's just so nice. You can collect your thoughts, and relax.
"We all know the impact cancer can have, and when you're going through what we've just gone through, it's great to have somewhere like that where they understand.
"It's not just the support. They give you practical help and advice with things like filling in forms. It doesn't matter what kind of cancer you have.
"If it wasn't for that centre, people would have nowhere else to go. They'd have to sit in a cafe."
He added: "I now know that if you find a lump, you need to get it checked out."
Helen is now raising money to help with Brian's aftercare via her Just Giving page.