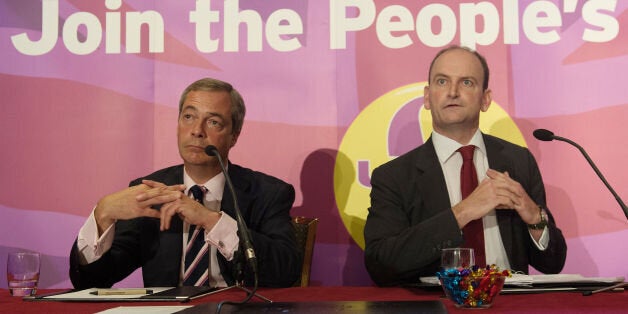 Nigel Farage has taken another swipe at Douglas Carswell in his ongoing spat with the Ukip MP.
Farage and Carswell are backing different 'Out' campaigns for the EU referendum. Carswell supports Vote Leave. But Farage has thrown his weight behind Grassroots Out (GO).
Speaking at a Brexit debate in Westminster on Thursday evening, Farage dismissed the importance of his only MP. "He can do what he likes. I don't care. He is irrelevant," he said.
"I've never known Ukip more excited or united than it currently is. It's very sad that Douglas Carswell can't share that enthusiasm, or chooses to opt for the SW1 model of Vote Leave. You know what. It doesn't really matter."
In December, Carswell said Ukip should replace Farage as leader if it wanted to "go the next level". Last week it was reported senior Ukip figures wanted to expel Carswell for backing a rival referendum campaign to Farage.
Farage also told the event, hosted by Ladbrokes on Thursday, that Boris Johnson was an "absolutely huge" asset to the Brexit campaign as he was one of only a dozen politicians that could help shift the debate.
The Ukip leader said he had been worried by Boris' "slightly shambolic" press conference announcing his intention to campaign to leave the EU as well as the London mayor's "baloney" about holding a second referendum.
But added that "provided the message is clear, Boris is massive asset".
Farage also hit out at Sky News reporter Jon Craig for reporting people had left a Grassroots Out rally in protest at George Galloway's appearance. "That report was outrageous," he said. "I saw your report Jon, I thought it was an absolute disgrace".
"You didn't even didn't even attempt to give it a degree of journalistic neutrality."
Farage said most people who left the rally before it ended had done so "to get trains" rather than because they did not like the Respect Party leader.
One man who walked out of the rally told the The Huffington Post UK of Galloway: "He's a despicable person: anti-Israel, supporting terrorist organisations, supporting Hamas, supporting Hezbollah."
Another said: "We need proper people, proper democrats. He won't do us any good." A third man said simply: "I can't stand the man."