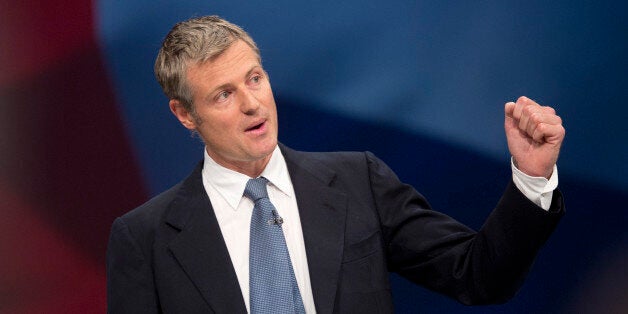 Conservative Zac Goldsmith has described himself as wanting to be the "pansexual" mayor of London.
The Tory MP told Pink News he wanted to be "be the mayor for all of London".
He said: "London is a beautiful, big, diverse city and needs a mayor that can speak for everyone. I would use the term pansexual here, if my understanding is correct.
Asked to define pansexuality, Goldsmith said: "Someone who loves the world, surely? Is that right?"
Pansexuals are attracted to people regardless of their gender identity or biological sex.
In the interview, Goldsmith also said he had a "struggle" with the idea of compulsory sex education "so that all children know it's okay to be gay".
"On the one level, I want the outcome that good quality sex and relationship education provides for all the obvious reasons," he said.
"But on another level, I'm very strongly supportive of the government's free schools agenda, which allows parents to set the ethos and the direction of schools. I think it's the right policy."
Goldsmith said he was "torn" because he did not agree with a "a one size fits all approach" for mandating what schools had to do.
'If you had a more data-driven city (like New York) it would be easier for the mayor to work with local authorities and identify hot spots where the government policy isn't working. I'd prefer that to a one size fits all approach, though I'm not saying the problem doesn't exist," he said.
Asked who his gay icon was, Goldsmith said: "Kylie Minogue, you can't go wrong with that."