A mother has told how she feared she'd never see her baby grow up after both of their hearts failed during and after birth.
Louiser Chapman, 24, from West Sussex, nearly died when she suffered a serious haemorrhage and lost a litre of blood when she went into labour early.
She was rushed in for an emergency caesarean but during the operation she suffered an anaphylactic shock reaction to an antibiotic and her heart stopped for seven minutes.
Just weeks later her daughter Olivia, who was born with a hole in her heart, stopped breathing after suffering cold-like symptoms.
"There was a point when I really didn't think we'd get here - we really thought we'd lose Olivia," Chapman said.
"It has been incredibly tough, but it's really amazing to be here at this point."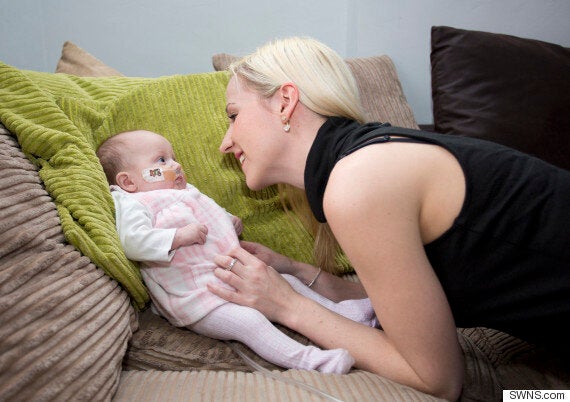 Louiser Chapman and her daughter Olivia enjoyed their first Mother's Day together
Chapman had a normal pregnancy until 30 weeks, when she said she started feeling an "excruciating pain" in her stomach while she was taking a bath in October 2015.
She asked her three-year-old son Charlie to bring her the phone and called an ambulance. She said that's the last thing she remembers.
Her partner Oliver Kernahan, 33, a mechanic, said: "Luckily I came home just as the paramedics arrived and found Charlie at the door."
Chapman was rushed to the Princess Royal Hospital in Haywards Heath, West Sussex, where a scan revealed her placenta had "torn from her womb".
Chapman was put in an induced coma for ten days and her ten-week premature daughter spent the first days of her life in an incubator.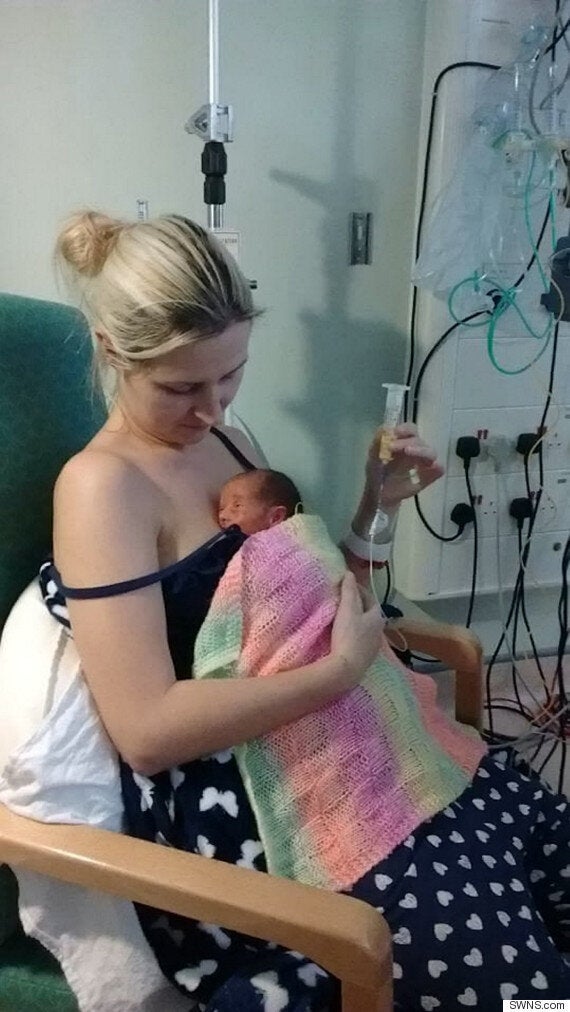 Louiser Chapman holding Olivia after coming out of the coma
When Chapman came out of her coma, she was left with short-term memory loss- likely due to the trauma - and nurses wrote her a birth diary to record the moments she had lost.
"I really can't remember anything about giving birth," she said.
"My partner Oliver and the doctors had to fill me in on everything that happened so everything I know is second hand.
"It was so upsetting - it's so important for new mums to bond with their babies when they're born, and I couldn't do it.
"They wrote down when Olivia was born and how much she weighed, as well as who had come to visit me in case I forgot.
"It was lovely as when I woke each morning, I got upset as I had forgotten what happened yesterday. So looking at my diary helped me."
Two weeks later, as Chapman was slowly starting to recover in the baby unit, she was told Olivia had a hole in her heart.
"I'll never forget it," she said. "They came over and told us that she had a small hole in her heart.
"They were saying they were confident it would close on its own, but it was horrible to hear.
"You automatically think of the worst that could happen, that we could lose her."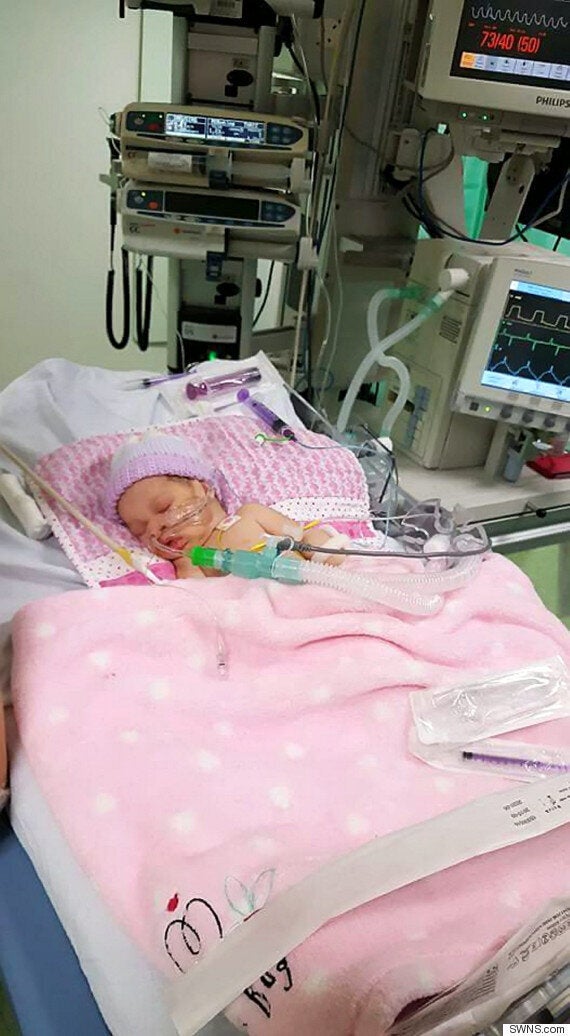 Olivia in hospital after catching bronchiolitis and pneumonia
Olivia was feeding so well that she gained enough weight for doctors to decide she was stable enough to go home.
But eight days later, Olivia became unresponsive and Chapman administered CPR with rescue breaths.
"I had just fed her and then lay her on my chest. I took her upstairs pulled her away from chest and she was blue and floppy," said Chapman.
"She wasn't breathing. I panicked, I didn't know what to do. I was in an absolute state.
"At first I passed her to Oliver, but then my training for work kicked in. I'd been taught CPR and I started giving her rescue breaths. Finally she gave out a cry."
Olivia was rushed to East Surrey Hospital. She had caught bronchiolitis and pneumonia which had affected her upper respiratory system.
"There were doctors all around her, they gave her CPR, two blood transfusions," said Chapman.
"It was horrific. When I later saw her in intensive care I thought, 'How is she going to come back from this?'
"I didn't think she would survive, there were times when I just couldn't think of the positive."
The family spent Christmas in hospital and after six weeks on the ward Olivia was allowed home - but she still has to use an oxygen tank.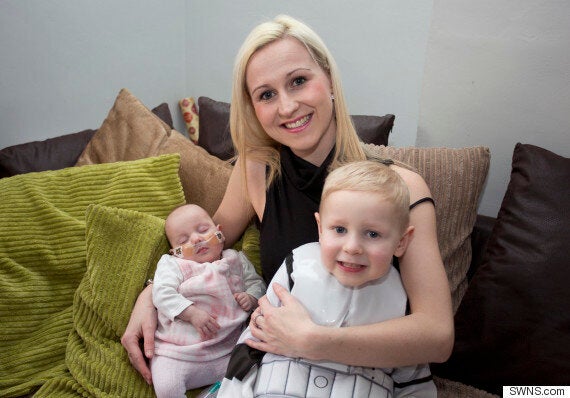 Louiser Chapman with her children Olivia and Charlie
Four months on, Chapman admits that life has been incredibly hard for the family.
"The daily struggles are having to do everything with the oxygen," she said. "Just doing a simple five minute school run takes 20 minutes to get them ready and Olivia all connected to her portable oxygen.
"We have to always watch the oxygen tank when out.
"We haven't been able to do anything properly as a family yet.
"But when the flu season is over I'm sure we will all go to the zoo - and we like to go and watch car drifting as Oliver is a mechanic.
"I don't think we're going to have any more children.
"The experience with Olivia has put us off having any more - especially for my partner. It's all been a lot to cope with."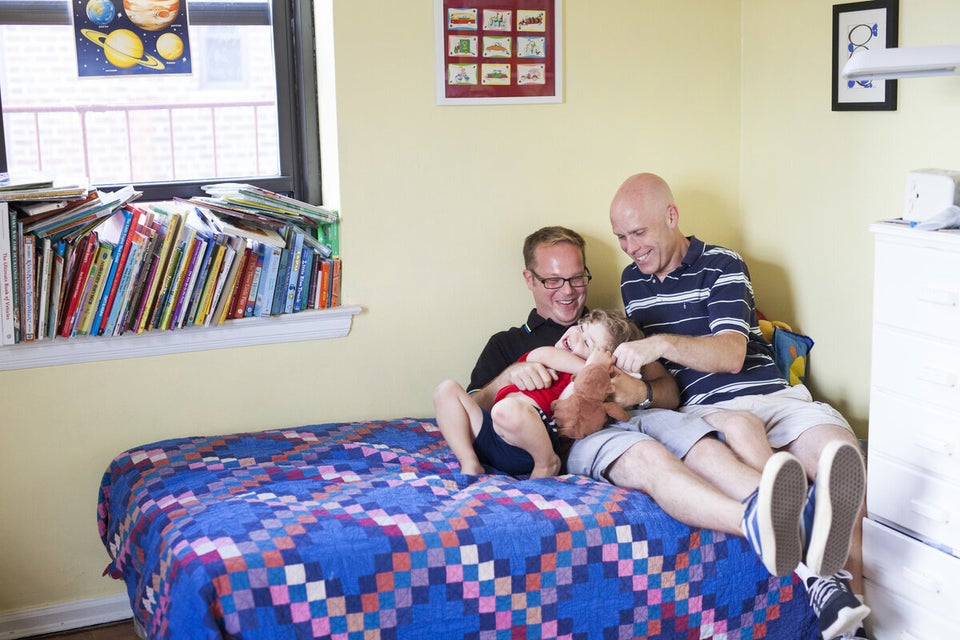 The Universal Family Project