A North London hospital has opened up a pub on site to help patients with dementia feel more at home during their stay.
The team at Chase Farm Hospital, Enfield, have created a makeshift pub named the Jolly Villa complete with bar, beer pump and bunting on Cornwall Villa ward.
They hope the pub will stimulate memories of happier times for the patients, improve their overall wellbeing and encourage them to communicate more with family members and staff.
The pub has been launched to coincide with Dementia UK's 'Time for a Cuppa' campaign, which asks members of the public to host tea parties throughout March to raise money for families affected by dementia.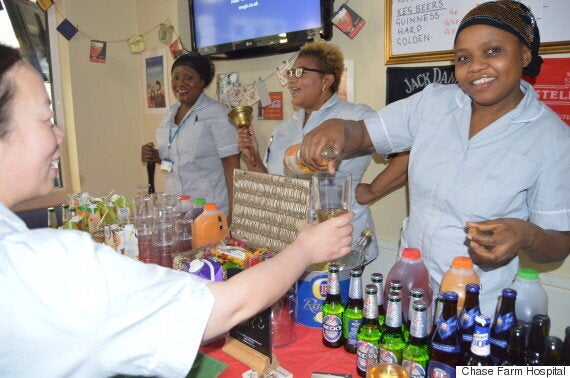 Staff serving drinks with a smile
The ward's 23 patients are able to order beverages - which are all non-alcoholic - free of charge at the bar and also partake in card games and dominoes laid out on the tables.
Speaking to The Huffington Post UK, ward manager Mounir Benbassou explained that the pub has been created as a form of 'reminiscence therapy' for the patients.
"Psychotherapeutic approaches can improve the mood, cognitive ability and the wellbeing of those with mild to moderate dementia," he said.
"Recalling memories can be therapeutic - it's very sociable and helps people realise they are a real person. This can boost the individual's confidence and self-esteem and help them make a connection between the past and the present.
"There is evidence to support the theory that past happy moments can improve the relationship with family or professionals. Research also supports the view that reminiscence therapy can improve relationships between people with dementia and their carers."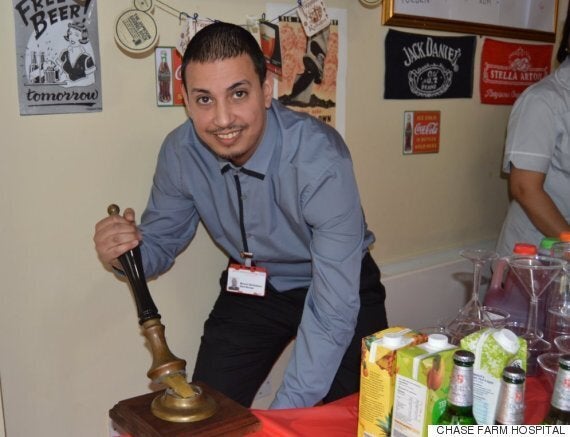 Mounir Benbassou pulling a (non-alcoholic) pint
Dementia has also be shown to affect people's interest in food, due to factors including tiredness, a change in medication, and finding it difficult to communicate.
According to Benbassou, a familiar activity or environment, such as a pub, can stimulate appetite and interest in food and drink again.
The pub is currently an internal arrangement between the ward staff and Barnet, Enfield and Haringey Mental Health NHS Trust, but if it proves a success it may be a model that is replicated in other hospitals.
As well as having the potential to improve symptoms in patients, Benbassou says the pub may be beneficial to their visitors.
"We hope the pub will create a specific opportunity for family to visit their relatives. This would also give them the opportunity to engage with staff more, which can make the delivery of care much more cohesive," he said.
"We've talked to our patients' loved ones and they have been really keen on the idea and hope it will trigger fond memories of pub lunches and summer evenings enjoying drinks."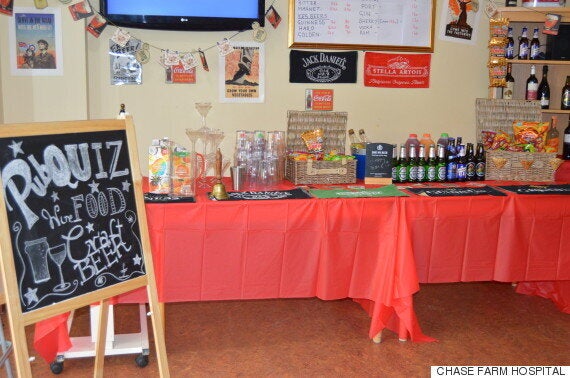 One person who is clearly impressed with the new pub is Antoinette Young.
After visiting her husband on the launch day, the 67-year-old commented: "My husband and I always frequented the pub in my area which was called the Top House and I went 'Oh look the Top House is open!'
"I think it's a damn good idea – it creates a sociable environment and he's had a nice day. This place [Cornwall Villa] is amazing – I wouldn't want him anywhere else.
"They also have a dementia garden and they've done this. I feel comfortable knowing he's in good care – the staff are marvellous. I can't fault the place in any way."
Click on image to launch slideshow: